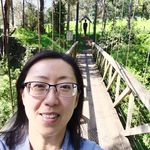 Mary Jing
Australie
•
12:25 AM (GMT+11:00)
Parle
Langue maternelle
,
C1
À propos de moi
My brief info are as follows:
✓A native speaker originally from XI'AN (a north-western city in China)
✓Master degree from Macquarie University, Sydney
✓Putonghua Degree Certificate:Second-level Grade A
✓9-year teaching experience at iMandarin Language School in Shanghai and Community Centre Shanghai
✓1-year teaching experience in the Confucius Institute at the University of Melbourne
✓3-year working experience in Australian local business environment
✓Specialised fields: Total beginners (to help them break through open-mouth phrase and keep them motivated); Spoken Mandarin; Chinese Characters; HSK preparation
✓Super patient with my students but not with my daughter( don't know why???)

Hi I'm Mary, originally from the north-west of China and living in Australia now. I've been teaching Mandarin to foreigners since 2005. Through my career life, I've taught both in Shanghai and Melbourne, both group class and private tutoring, both face-to-face class and online class, both adults and teenagers, kids. During 2010 to July 2011 I was honoured to work as a Mandarin Instructor in the Confucius Institute at the University of Melbourne. I'm experienced in teaching different levels of Mandarin and specialised in Beginner's Program, Spoken Chinese and HSK preparation. My teaching method is pretty traditional: starting with Chinese Phonetics and Tones, learning from basic topics like Self-introduction, Family Members, Dates Time and Numbers, Hobbies, Ordering Drinks etc. after building up a solid foundation of PinYin. For those who are keen to take HSK exams, I usually walk them through by doing mock Exam papers, explaining new vocabularies and grammar points to get them ready for the real test. As a professional Mandarin teacher with over ten-year work experience, I believe suitable methodology and right study material would lead the learners to an efficient and approachable progress. No pains, no gains. About teaching, I'm serious. Looking forward to meeting you soon!
En savoir plus
Cours d'essai
Une seule fois, 30 minutes
Cours particuliers
60 minutes
Stats professeur
Sous quelques heures
il y a 7 ans
95.00%
305
18.2 moyenne des cours
5.0
Expérience d'enseignement
Débutant
Débutant supérieur
Intermédiaire
Intermédiaire supérieur
Confirmé
CV

Expérience professionnelle
Online Corporate Mandarin Teacher
mYngle.com - Netherland
Provide General Mandarin courses to corporate clients
Mandarin Instructor
Ringwood Community Center - Melbourne, Australia
Teach Spoken Mandarin and related cultural topics to students
Mandarin Teacher
Community Center Shanghai - Shanghai, China
Teach Standard Mandarin listening, speaking, reading and writing; offer HSK Preparation class; conduct Taobao class to expats, teach how to set up Taobao and Alipay accounts, top account, choose product, check shopping records, update transaction process, edit personal info, request refund etc.to assist them enjoying shopping at Taobao
Mandarin Teacher
IMandarin Language School (New World Education Group) - Shanghai, China
Teach expats Standard Mandarin in various levels (e.g. Total Beginner, Intermediate, Advanced Level); conduct both Group and Private class; offer HSK Preparation class for all levels; specialize in teaching Spoken Mandarin and Chinese Characters, making the class practical, easy-to-get-start and full of fun; offer special learning experience for children and teenagers, tutor them with school homework and extra learning
Chinese Instructor
Confucius Institute at The University of Melbourne - Melbourne, Australia
Teach General Chinese and Business Chinese course focus on listening and speaking; run a few Mandarin Learning seminars for the staff of Education Dept. Victoria state to explore and analyze cultural difference, present the spectrum of Han language, introduce the characteristics of Mandarin and efficient study methods

Certifications
Master of Commerce
Macquarie University - Sydney, N.S.W.Australia
Major in Accounting & Finance
Bachelor of Economics
Shaanxi Institute of Finance and Economics - Xi'an, China
Major in International Finance
Afficher plus de professeurs enseignant:
Cours d'essai
Une seule fois, 30 minutes
Cours particuliers
60 minutes