AUTUMN BUCKET LIST - DAY 20 and 21
TELEFONA A UN AMICO / UN'AMICA
Call a friend by telephone
When I want to keep in touch with a friend (AMICO = male friend) (AMICA = female friend) I have many option nowadays: I can send an e-mail (
INVIARE UNA E-MAIL
), or a short text message through apps and cellphones...or I could choose to make a
PHONE CALL
(
TELEFONATA
) and use my voice to cover a distance!
That's what I did during my Autumn Bucket List challenge with IMPERATIVE VERBS from Italian language! The verb I need to make a phone call is
TELEFONARE
!
Please always remember to add the preposition

A

when using this verb!
In case you have an issue with prepositions my suggestion would be to use verb
CHIAMARE
(
TO CALL
): this is less specific (I don't necessary need a telephone when I "call" somebody: I could just use my voice) but it's a smarter option since it doen't need any preposition to follow the verb ;-)
IO
TELEFONO A
SARA, LA MIA AMICA (specific with a phone)
IO
CHIAMO SARA
, LA MIA AMICA (less specific but I presume I'm using a phone if she's distant)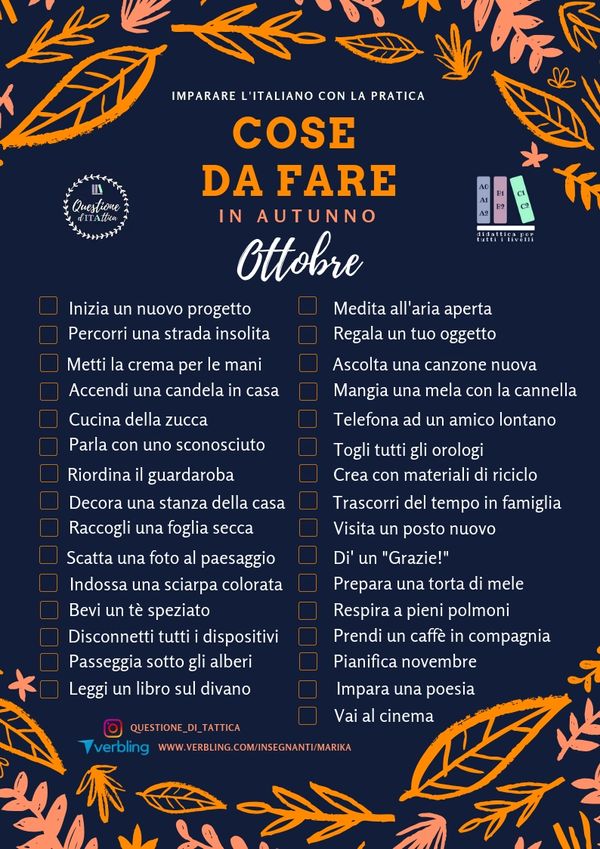 Take all of your clocks / watches off
TOGLIERE
is the action of taking something off and usually it's considered a negative action, especially compared with its opposite:
PUT ON/IN
(
METTERE
); but recently I've been meditating a lot on the abundance of thing that we hold in our lifes.
Sometimes we even hold on to stress and anxieties, and that's not healthy, don't you think?
So I decided to experiment something new:
TOGLIERE TUTTI GLI OROLOGI
(take off all kind of watches or clocks -
no difference in the Italian word "orologio" if there is no further explanation)
in my life for at least one day, in order to taste every single moment as it comes, with no pressure nor worries....
It goes without saying that the experiment was a total failure!! But at least I have tried ;-) and I am sure that I'll give myself another chance one day!
As an old ad used to claim:
TOGLIETEMI TUTTO, MA NON IL MIO BREIL :-D
(Don't touch my breil --> take anything away from me, but my breil!)