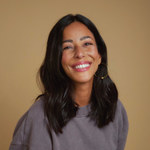 Juhi
Spagna
•
8:12 PM (GMT+01:00)
Parla
Madrelingua
,
C2
,
C1
,
A1
Su di me
YES, I DO OFFER TRIALS :) You must read all the information below + send me a message introducing yourself, with your short-term goal, level, and your deadline. Once approved, I'll open up the trial option for you. Thank you!

ℍ𝕖𝕣𝕖'𝕤 𝕒 𝕓𝕣𝕚𝕖𝕗 𝕚𝕟𝕥𝕣𝕠𝕕𝕦𝕔𝕥𝕚𝕠𝕟 𝕒𝕟𝕕 𝕤𝕠𝕞𝕖 𝕚𝕞𝕡𝕠𝕣𝕥𝕒𝕟𝕥 𝕥𝕙𝕚𝕟𝕘𝕤 𝕥𝕠 𝕜𝕟𝕠𝕨 𝕚𝕗 𝕪𝕠𝕦'𝕣𝕖 𝕚𝕟𝕥𝕖𝕣𝕖𝕤𝕥𝕖𝕕 𝕚𝕟 𝕓𝕠𝕠𝕜𝕚𝕟𝕘.

I've been teaching ESL professionally since 2005, the year I got my Cambridge certification (CELTA). I built my skills teaching at one of the best language schools in New York City, and over the years I have helped hundreds of people- from CEOs and diplomats to television producers and sex workers.

I'm also a communication consultant, working with individuals and brands to organize their ideas and express their value in the most authentic and effective way possible.

ℚ: 𝕎𝕙𝕒𝕥 𝕕𝕠𝕖𝕤 𝕥𝕙𝕚𝕤 𝕞𝕖𝕒𝕟 𝕗𝕠𝕣 𝕞𝕖?

A: You get the benefit of my expertise in both areas!

Right now, I'm interested in working with people who:

+ have an English level of High Intermediate or above
+ have an important short-term goal involving English (see examples below!)
+ are motivated and ready to do the work to see results


ℚ: 𝕎𝕙𝕒𝕥 𝕕𝕠 𝕪𝕠𝕦 𝕞𝕖𝕒𝕟 𝕓𝕪 "𝕒𝕟 𝕚𝕞𝕡𝕠𝕣𝕥𝕒𝕟𝕥 𝕤𝕙𝕠𝕣𝕥-𝕥𝕖𝕣𝕞 𝔼𝕟𝕘𝕝𝕚𝕤𝕙 𝕘𝕠𝕒𝕝"?

A: This could be a job interview, a portfolio presentation, a speech, an application essay or academic writing, or even a pitch to investors or potential customers.

If you have between 1 week and 2 months to prepare, I would love to help you!


ℚ: ℍ𝕠𝕨 𝕕𝕠𝕖𝕤 𝕚𝕥 𝕨𝕠𝕣𝕜?

A: In our trial, we discuss your short-term goal and your expectations, I ask you a lot of questions to understand what you need to succeed, and I give you honest and realistic feedback. If I'm confident that I can support you, I will propose a specific plan of action for us to begin in our first full session- including preparation for you to do before then.


ℚ: 𝔻𝕠𝕖𝕤 𝕥𝕙𝕚𝕤 𝕚𝕟𝕔𝕝𝕦𝕕𝕖 𝕔𝕠𝕣𝕣𝕖𝕔𝕥𝕚𝕠𝕟? 𝔾𝕣𝕒𝕞𝕞𝕒𝕣? 𝕍𝕠𝕔𝕒𝕓𝕦𝕝𝕒𝕣𝕪?

A: Absolutely! I provide you with both language support AND content strategy. Basically, whatever you need to say, I help you say it right, and say it well!


ℚ: 𝕎𝕙𝕒𝕥 𝕒𝕓𝕠𝕦𝕥 𝕔𝕠𝕟𝕧𝕖𝕣𝕤𝕒𝕥𝕚𝕠𝕟 𝕡𝕣𝕒𝕔𝕥𝕚𝕔𝕖?

A: In the past I did offer conversation classes for more casual, long-term learning, but right now I don't.

I do include conversation practice in my sessions when it is appropriate, or if it supports the main goal.


ℚ: 𝕀'𝕞 𝕟𝕠𝕥 𝕤𝕦𝕣𝕖 𝕚𝕗 𝕞𝕪 𝕝𝕖𝕧𝕖𝕝 𝕚𝕤 𝕙𝕚𝕘𝕙 𝕖𝕟𝕠𝕦𝕘𝕙 𝕥𝕠 𝕨𝕠𝕣𝕜 𝕨𝕚𝕥𝕙 𝕪𝕠𝕦. 𝕎𝕙𝕒𝕥 𝕤𝕙𝕠𝕦𝕝𝕕 𝕀 𝕕𝕠?

A: If you know you're at least Intermediate and think you could possibly be a bit higher, go ahead and book a trial and we will figure it out!

𝕀𝕗 𝕪𝕠𝕦 𝕙𝕒𝕧𝕖 𝕒𝕟𝕪 𝕠𝕥𝕙𝕖𝕣 𝕢𝕦𝕖𝕤𝕥𝕚𝕠𝕟𝕤, 𝕡𝕝𝕖𝕒𝕤𝕖 𝕗𝕖𝕖𝕝 𝕗𝕣𝕖𝕖 𝕥𝕠 𝕤𝕖𝕟𝕕 𝕞𝕖 𝕒 𝕞𝕖𝕤𝕤𝕒𝕘𝕖.

𝔼𝕧𝕖𝕟 𝕚𝕗 𝕨𝕖 𝕕𝕠𝕟'𝕥 𝕨𝕠𝕣𝕜 𝕥𝕠𝕘𝕖𝕥𝕙𝕖𝕣, 𝕀 𝕨𝕚𝕤𝕙 𝕪𝕠𝕦 𝕒𝕝𝕝 𝕥𝕙𝕖 𝕓𝕖𝕤𝕥 𝕚𝕟 𝕪𝕠𝕦𝕣 𝕤𝕖𝕒𝕣𝕔𝕙 𝕗𝕠𝕣 𝕥𝕙𝕖 𝕣𝕚𝕘𝕙𝕥 𝕥𝕖𝕒𝕔𝕙𝕖𝕣.

Leggi altro
Statistiche insegnante
Poche ore
8 anni fa
92.00%
2.673
16.0 media lezioni
5.0
Competenze Didattiche
Intermedio Superiore
Avanzato
Curriculum

Esperienza Lavorativa
Founder
EYE & COMPASS
Communication Consulting, Brand Identity, and Divination Services
Teacher
English Now - Washington, DC
General English, Business English, TOEFL
Teacher/Head TOEFL Teacher
Rennert Bilingual - New York, NY
Teacher
NY Smarts - New York, NY
Linguist
LLE Language Services - Washington, DC
Client: U.S. Department of State
Teacher
English Now - Washington, DC
General English, Business English

Certificazioni
CELTA (Certificate in Teaching English to Speakers of Other Languages)
University of Cambridge via Embassy CES - New York, NY
Vedi altri docenti che insegnano: