Best free iPhone apps for navigating the Tokyo train system
Unless you're a master navigator and/or a fluent reader of Japanese kanji, the Tokyo train map is bewildering. You might wonder how on earth people find their way around here. The locals do it with the help of train finder apps but until recently these apps have been in Japanese. Now, there are a number of apps in English to help you navigate the city's trains. I've tried out three free English train apps and they're reviewed below.
Japan Travel is the English version of the train app offered by Navitime. It has a Transit Search feature where you can look up train routes. It gives you a map so you can figure out where you are or you can enter the station name directly. It has some handy auto-finish option in case, like me, you're still not adept at typing on your iPhone, or if you have trouble spelling Japanese station names. If you enable location services, it can also offer you a few nearby stations to choose from. In addition to searching for the soonest train, you can enter a departure or arrival time.
After you put in stations and/or times, the app delivers a selection of routes. You can have the list prioritized by quickest, cheapest, fewest changes or proximity to elevators. For each route, it gives you the cost, time and length of time between stations.
There are a number of other features but some are available only to purchasers. Among the free features, you can search for convenience stores, ATMs, cafes, restaurants or 100-yen shops by station. It also has a "Must See" feature which introduces places to go in the city, including maps and other information. It's pretty comprehensive for a free app.
Trains.jp by Hypnotize KK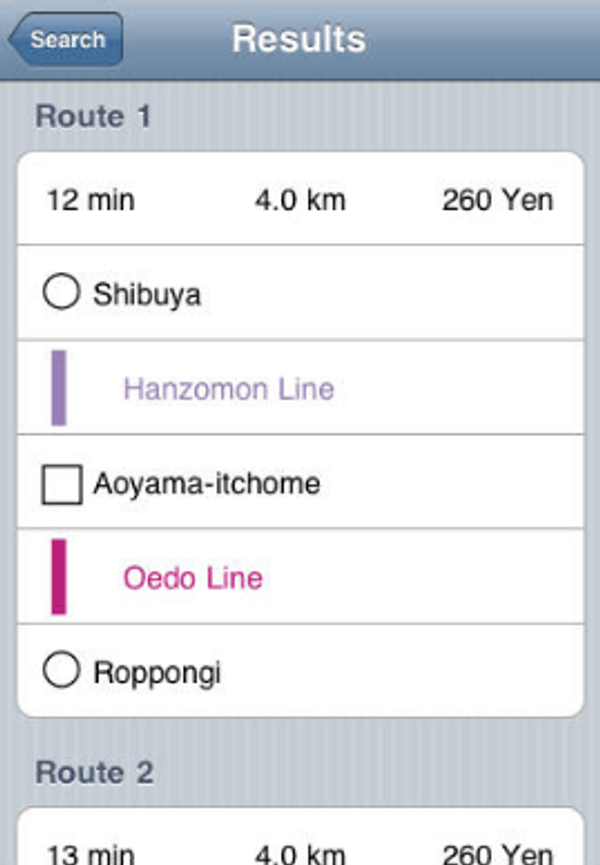 Trains.jp is nice because it's extremely simple and easy to use. No frills, just type in the two stations and it gives you route information. Although it's stripped down, it gives you all the essential information you need. Routes include stations, train lines, price and distance in km. Each line is also color coded to help you find the right one once you get to the station.
It's really easy to find stations and it seems to cover every station in Tokyo and the suburbs, but not as far as Mito in Ibaraki Prefecture. My guess is that it covers Tokyo, Saitama, Chiba and the nearer parts of Kanagawa.
Rail Map Lite by Urban Map
I particularly like this app because of the nice map it includes. The map is color coded with the name of the station in Japanese kanji underneath the English. Each station also has its station code if it's a subway line (for example, Ochanomizu is M20, etc.). The map also has some landmarks like the Imperial Palace and Tokyo Sky Tree.
The map extends west to Kichijoji, south to Tamagawa, east to Ichikawa and north to Kawaguchi, so it's only for the Tokyo metro area. However, there are little arrows leading off the page that indicate where a train line ends up, such as Narita Airport or a major station.
Like the other apps, it has a route tool, but what I like about Rail Map Lite is that it actually shows you where you're going on the map. A little cursor moves along the route to show you where you're going on the map.
Other features include a GPS-activated location feature, which I couldn't use I guess because I'm in Chiba; a search feature where you find a particular line and it gives you all the stops and all the transfers at each stop; and there are language options where you can choose Japanese station names with the English smaller underneath.
There are probably cooler apps if you're willing to pay a few bucks, but these are the best ones I could find in my favorite price range – free.
Ollie Capehorn (@ocapehorn) is the Co-Founder of LinguaLift, an online Japanese language school where learners enjoy the flexibility of a self-taught curriculum with the guidance of helpful study coaches. Check out his list of best travel guides to Japan for more inspiration.
2016年10月19日
Mi vida antes del Covid- 19 (IMPERFECTO) A-2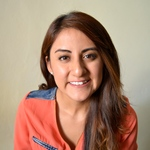 Alejandra Santiago
2020年8月7日
팔랑귀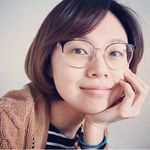 The Origins of popular English Idioms