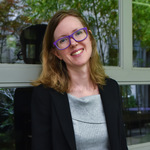 Phoebe Blackburn
ドイツ
•
10:01 AM (GMT+01:00)
使用できる言語
ネイティブ
,
ネイティブ
,
C2
,
A2
トライアルレッスン
One time, 30 minutes
先生の統計
非常に迅速に
3年前
100.00%
0
0.0 レッスン平均
新しい先生
レジュメ

学歴
B.A. French & German, First Class Degree
Oxford University - Oxford, UK
Modern Languages degree including a year abroad in Germany

職歴
High End English Language Coaching
Langaj - Paris
High end language coaching for managers & CEOs in major listed companies and non-profits using the latest tools and techniques. Focus areas: HR, general business, media, sustainability, CSR & waste, arts.
Singing (classical)
Choirs: Oxford choirs, FCO choir, London Concert Choir, Notes en Bulles, solo work. - Oxford/London/Bonn/Paris/Berlin
25 yrs of singing experience & voice training supporting my language coaching work
Communications Consulting, Language Coaching & Voice training
Phenomenal Words (my own freelance business) - Paris/Berlin
High end language coaching including voice coaching in English, French, German for start-ups, artists, singers, TED speakers, moderation, webinars, interviews.

資格
Efficient Language Certification
ELC - Germany
Neurolanguage Coaching Certification - using coaching principles and neuroscience to teach languages. ICF accredited.
CELTA diploma
International House - Barcelona
Diploma for Teaching English as a Foreign Language
この言語を指導している先生を探す:
トライアルレッスン
One time, 30 minutes