有効期限:

03:08:32:03

(クーポンが残っています: 44)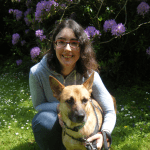 Camille Beaupin
フランス
•
4:22 AM (GMT+00:00)
トライアルレッスン
One time, 30 minutes
先生の統計
1 日以内
3年前
99.00%
112
7.4 レッスン平均
5.0
レジュメ

学歴
Diploma in Translation in French, Spanish, English and Catalan
ISIT (Superior Institute of Interpretation and Translation) - Paris
Bachelor's degree in Iberian and Latin American Studies
New Sorbonne - Paris
History, Litterature, Translation and Linguistics in Spanish and Catalan

職歴
Technical translator
Parisian area from 2008 to 2015, online from 2015 to 2018
Translation of technical documents from English and Spanish to French
Online teacher since 2017
Antother online teaching platform - Online
Private tuition in French to intermediate and advanced learners. I specialize in conversational lessons with material (comics, videos, music), lessons with textbooks and preparation to French exams (DELF, DALF and TEFAQ).

資格
Mooc "Teaching French as a Foreign Language Today"
Cavilam - Online certification
Theoretical and practical MOOC during which I created a pedagogical sequence (activities for learners). This sequence had to include linguistic and communication goals and a set of progressive activites/exercises so that the learners can reach them. My work was assesed and I got a final score of 78%.
この言語を指導している先生を探す:
トライアルレッスン
One time, 30 minutes