有効期限:

01:08:49:28

(クーポンが残っています: 22)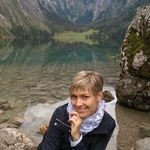 Alexandra Yakovenko
ドイツ
•
5:05 AM (GMT+01:00)
使用できる言語
ネイティブ
,
ネイティブ
,
C1
,
C1
トライアルレッスン
One time, 30 minutes
先生の統計
非常に迅速に
4年前
100.00%
0
0.0 レッスン平均
新しい先生
レジュメ

学歴
Ruprecht-Karls-Universität, Heidelberg - Germany
Consecutive interpretation and business correspondence (En-Ru,Ru-En). Theory of translation: engineering and economics (Ge-Ru,Ru-Ge)
Master of philology
Zaporizhzhya National University - Ukraine
Speciality – Language and Literature (English/German).

職歴
Online Tutor/Translator
Cochrane Group/worldwide
Preparation for exams, "crash courses", translation of medical reviews En-Ru
Teacher of En/Ge.Translator.
School of foreign languages "Albion" - Ukraine
Preparation for international exams; translation (field-tourism);customer support; conducting speaking clubs and differnt company events
Teacher of English
Nachhilfeinstitut "Lernzentrum Dorn" (Speyer). - Germany
Language tutor of En/Ge.Translator.
School of foreign languages "Advance" - Ukraine
Preparation for international exams; translation (field-tourism, economics);customer support; editing, word processing; proofreading; development of new courses
Teacher of En/Ge/Ru as foreign languages
European school of languages - Ukraine
Teaching En/GE/Ru; customer support and - acquisition; recruitment; interviewing
University lecturer
Donetzk National Technical University - Ukraine
Teaching English/Russian as a foreign language
Freelancer (translator)
remote
Tutoring En/Ge; translation (field:economics,medicine,pharmacy ,accounting,marketing, healthcare

資格
Office assistant
Alfatraining - Germany
Focus on accounting, office organisation and communication, MS-office
CAE (A-Grade)
VHK - Germany
DSH 3
Ruprecht-Karls-Universität - Germany
Deutsch als Fremdsprache, Abschluss Goethe Zertifikat C1
VHK - Germany
この言語を指導している先生を探す:
トライアルレッスン
One time, 30 minutes