有効期限:

00:17:32:08

(クーポンが残っています: 11)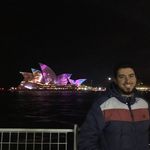 Ahmed Al-Naggar
エジプト
•
9:22 AM (GMT+03:00)
自己紹介
My name is Ahmad Al-Naggar, A teacher of the Nobel Qur'an, Arabic language and Art
I had been working on these fields for almost 10 years.
I have two variations on the recitation of Hafs from Aasim and I am currently studying the conclusion of the variation of the ten recitations. I will soon conclude /finish them by God's will.
But concerning Arabic language; I have ability on teaching some books in the field, and they are as follows:
1- Teaching Arabic for non-native speakers ( (Elementary Books, Silsilatut-Takallum and Al-Arabiyyatu baina yadaik)
2- Grammar ( Taiseerun-Nahw, al-Nahwul wadhih, Sharhul-Azhariyyah, al-Muqaddimat Al-Ajruumiyyah, Mulkhas Al-qawa'id al-Lugah al-Arabiyyah, Shazaraatul-zahab, Sharh qatril Nada wa ballus-sad, Sharh ibn Aqeel ala alfiyat ibn Maalik )
3- principles of morphology ( Shaza- Al-arf fi fannil- Sarf, Al-tatbeequl Al-sarfi, Al-sarful Al-kaafy )
4- rhetoric ( Albalaaga Alwaadhihat, Alkaafy fil balaagah )
I believe that the use of intermediate language between the teacher and the student does not create a suitable learning environment, especially for the student. There are more than a thousand method to deliver information without intermediate language and this will benefit the student in the end. It is the Arabic lesson, not the English!
wish you good luck.
もっと見る
トライアルレッスン
One time, 30 minutes
先生の統計
数時間以内
5年前
98.00%
665
32.5 レッスン平均
5.0
指導専門分野
Modern Standard Arabic (al-fusha)
レジュメ

学歴
Tajweed Vacation /Al-Azhar university /Quranic recitation institute
Bachelor of Arts and Education /Banha University / Faculty of Education Department of Arabic Language and Islamic Studies

職歴
Teacher of Arabic - Nile Center for Arabic Education for Non - native speakers in Cairo
Teacher of Arabic - Al Fateh University / Faculty of Islamic Studies - Istanbul / Turkey
Teacher of Arabic - Scientific Academy for Scientific Research and Internet - Istanbul / Turkey
Supervisor and teacher of Arabic language -Space Association - Shirkhoh Academy for the Care of foreigner StudentsSpace Association - Shirkhoh Academy for the Care of International Students / Cairo

資格
Professional Teacher Grant from the Canadian Academy of Training and Consultancy
A training course for teachers of Arabic language for Non - native speakers for Dr. Imad Fawzi
A training course for teachers of Arabic language for Non - native speakers for Prof. Dr. Mahmoud El Naqa
Course (Nur Al-Bayan in the teaching of reading and Quran)
この言語を指導している先生を探す:
トライアルレッスン
One time, 30 minutes