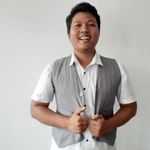 Yacub Fahmilda
インドネシア共和国
•
9:03 AM (GMT+07:00)
トライアルレッスン
One time, 30 minutes
先生の統計
非常に迅速に
9ヶ月前
100.00%
1
0.0 レッスン平均
5.0
レジュメ

学歴
B.A. Indonesia Linguistics and Literature
Gadjah Mada University - Yogyakarta, Indonesia
I focused on Phylology (Old Manuscripts of Indonesia and Malay) to discover the aspects of linguistic, Socio-history, and its function.

職歴
Indonesian Tutor for Foreign Native Speaker
Indonesia Language and Culture Learning Service (INCULS), Gadjah Mada University - Yogyakarta
I assisted the BIPA student for private session after the class. In this session, I should review and explain particular part of student difficulty.

資格
BIPA Teaching Method Training
Afiliasi Pengajar dan Pegiat BIPA (APPBIPA Jogja) - Yogyakarta
I have been trained to teach Bahasa Indonesia for Foreign Students. I have learned how to compose curriculum and syllable for private students and to deliver the materials in a proper way. To accomplish this training, I should do a simulation from preparing material, teaching practice, and evaluating the lesson. Comprehensively, I have got all the basic methods of skill teaching Bahasa Indonesia.
この言語を指導している先生を探す:
トライアルレッスン
One time, 30 minutes