有効期限:

00:22:59:28

(クーポンが残っています: 22)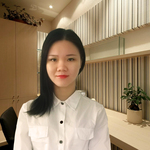 Melissa Lai
中華人民共和国
•
8:55 AM (GMT-05:00)
使用できる言語
ネイティブ
,
ネイティブ
,
B2
,
B1
トライアルレッスン
One time, 30 minutes
先生の統計
非常に迅速に
4年前
100.00%
1
0.0 レッスン平均
新しい先生
レジュメ

学歴
検証済み
Guangdong University of Foreign Studies - Guangdong Province, China
Teaching Chinese to speaker of the other languages

職歴
Chinese teacher
Institute confucius of University of Catholic Santa Maria - Arequipa. Peru.
Teaching students from the college and the society
Chinese Teacher
Sekolah Nasional Plus Jembatan Budaya - Bali, Indonesia
I taught Chinese to students age from 4 to 20 years old .To promote their listening and speaking abilites and develop their interests by using different kinds of teaching methods. And they made great progress.
Online Chinese Teacher
Guangzhou
I teach Chinese online by Skype.
この言語を指導している先生を探す:
トライアルレッスン
One time, 30 minutes