有効期限:

00:02:04:30

(クーポンが残っています: 11)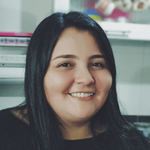 Gheraldine Guerrero.
コロンビア
•
4:50 PM (GMT-05:00)
自己紹介
Hello! My name is Gheraldine. I'm a Spanish teacher as a foreign language with more than three years of experience with students from different learning styles. I considered myself a very patient, flexible, enthusiastic and encouraging teacher. I have experience teaching Spanish from basics to the most advanced levels so I'll be able to set up a learning plan tailored to your unique needs and objectives for example if you are only looking preparation for Spanish tests like the DELE or SIELE exam we are going to test your abilities as a first step and then make an action plan based on your own skills.

I would be very glad to be with you during this learning process because I truly understand the meaning of being able to speak a foreign language after all the processes it usually takes. If you are interested in taking a fun and fulfilling class do not hesitate booking your next lesson with me.

See you soon!

Hola! Mi nombre es Gheraldine. Soy profesora del idioma español como segunda lengua con más de tres años de experiencia enseñando el idioma con estudiantes de diferentes niveles de español y con diferentes estilos de aprendizaje. Por este motivo me considero una persona paciente, tranquila y entusiasta con mis lecciones. Con mi experiencia enseñando español desde niveles básicos hasta los más avanzados puedo establecer un plan de aprendizaje diseñado de acuerdo a tus necesidades y objetivos. Por ejemplo si solamente estás buscando prepararte para examenes que certifiquen tu nivel en el idioma como el DELE o el SIELE, primero probaremos tus habilidades y luego haremos un plan de acción que esté de acuerdo a tus habilidades.

Estaría muy feliz de poder acompañarte dentro de este proceso de convertirte en un hablante fluido del idioma español, porque realmente sé el significado de tener la capacidad de hablar un idioma extranjero después de todo el proceso que esto usualmente conlleva. Si estás interesado en tener una clase divertida y satisfactoria no dudes en ningún momento y agenda tu próxima clase conmigo.

¡Nos vemos pronto!

もっと見る
トライアルレッスン
One time, 30 minutes
先生の統計
1 日以内
5年前
87.00%
93
9.6 レッスン平均
5.0
指導専門分野
Caribbean Spanish
Central American Spanish
Chilean Spanish
Latin American Spanish
Mexican Spanish
レジュメ

学歴
Learning To Teach Online
The University of New South Wales - Australia
Improvement of online or blended teaching practices
Psychologyst
Universidad de los Andes - Colombia
Professional undergraduate studies in Psychology with emphasis in learning.

職歴
Teacher of Spanish and Linguistics
Instituto Educativo Distrital Charry - Colombia
Teacher of Spanish, Spanish Grammar, Phonetics,Reading and Writing skills.
Translator (English to Spanish)
Private Telecommunications Company - Colombia
Translating meetings from american to colombian customers.

資格
Specialized Virtual Teacher
University of California, Irvine - USA
Practices for online instruction using social media and new technologies.
この言語を指導している先生を探す:
トライアルレッスン
One time, 30 minutes