有効期限:

00:13:14:46

(クーポンが残っています: 22)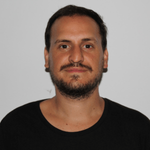 Esteban Picasso
アルゼンチン
•
8:40 PM (GMT-03:00)
トライアルレッスン
One time, 30 minutes
先生の統計
非常に迅速に
2年前
100.00%
0
0.0 レッスン平均
新しい先生
レジュメ

職歴
Psycology and degree in teaching psycology
National University of La Plata - La Plata, Argentina
i'm finishing my degrees in two months
Private tutoring in French, Spanish and English.
A couple of months in the university and i have done it in my house for the las 2 years - La plata, Argentina
Language assistant in Nantes, France -
検証済み
I worked in two schools realated with the CIEP ( centre international d'études pédagogiques) - Nantes, France.
Spanish teacher in high school.
この言語を指導している先生を探す:
トライアルレッスン
One time, 30 minutes