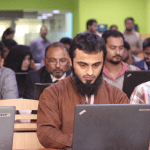 Umair Rafique
パキスタン
•
3:05 PM (GMT+05:00)
トライアルレッスン
One time, 30 minutes
先生の統計
数日以内
5年前
44.00%
45
10.3 レッスン平均
5.0
レジュメ

職歴
Teacher
Reflections School - Karachi, Pakistan
Teacher of Tafseer in the Arabic language
Founder and lead instructor
Al-Itqan academy for Arabic language - Karachi, Pakistan
I am the founder of this institute where I teach the Arabic language to people seeking to travel, to read medieval Arabic texts, or to prepare for any competitive examination.
Teacher and Coordinator
The Intellect School - Karachi, Pakistan
Teacher and Coordinator for the subject of Arabic language in the Secondary Section. My job is to manage a team of 4 teachers of the Arabic language teaching Grades 4 to 6, and myself had to teach grades 7 to 9 and prepare them to appear for the Arabic GCSE examination.

資格
Arabic language, Grammar, Literature, Rhetoric and Religious Sciences
Madrasah Ibn e Abbas - Karachi, Pakistan
A 7 year intensive course on Arabic language and all it's sciences, and Religious Sciences in the Arabic medium
この言語を指導している先生を探す:
トライアルレッスン
One time, 30 minutes