有効期限:

03:10:06:15

(クーポンが残っています: 44)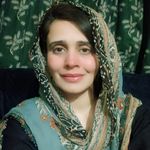 Tahira Firdous
パキスタン
•
6:48 PM (GMT+05:00)
自己紹介
I'm Tahira. I have more than 15,000 hours of experience online teaching Urdu to learners of varied ages and all levels. I am a very warm and friendly teacher! I would like to create a learning space unique to my students needs. Whether you want to practice an Urdu conversation or focus on vocabulary for a specific subject I am sure we can find a method that works best!
You will find, I am an enthusiastic, resourceful, and patient educator. I keep learning fun and interesting. I will help you to achieve your goals and make sure the lessons are relevant to you. I have a lot of experience in modifying lessons to meet an individuals needs and learning styles. Your success is what drives me!

I specialize in teaching children. I teach in a fun and effective way. In a short period of time, you can see the result.

My teaching methodology depends on the student's needs and learning type. Some people like to learn with examples, some like to learn with dynamic activities, etc.
I create personalized quizzes that my students can do online and the results are sent directly to me each time they finish. I also create audios and videos to help with grammar, pronunciation, intonation and vocabulary. I like to spend the majority of my class time with exercises for my students to be speaking. This allows me to give immediate feedback on pronunciation and intonation.

Booking a trial lesson with me will be a unique experience. After spending some time exploring your situation, needs and interests, we can discuss your learning goals and agree on an initial plan of action. We can then spend time getting to know each other, and I will of course grade my language to suit your needs. Naturally, I will be happy to answer any questions you have about me and the way I work.

I look forward to learning with you and hopefully through a trial lesson we can see how to improve your skills in the best way!
もっと見る
トライアルレッスン
One time, 30 minutes
先生の統計
1 日以内
4年前
88.00%
848
26.7 レッスン平均
4.9
この言語を指導している先生を探す:
トライアルレッスン
One time, 30 minutes