有効期限:

05:04:12:18

(クーポンが残っています: 66)
Cristóbal は、新しい生徒を受け入れていません。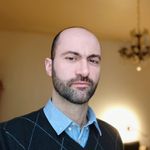 Cristóbal Jiménez
スペイン
•
9:42 AM (GMT+01:00)
トライアルレッスン
One time, 30 minutes
先生の統計
1 日以内
4年前
100.00%
287
31.6 レッスン平均
5.0
レジュメ

学歴
Master's Degree in Training of Teachers of Spanish as a Foreign Language
University of Barcelona - Barcelona
Postgraduate Certificate in Education (Spanish Language and Literature)
University of Barcelona - Barcelona
BA in Audiovisual Communication
University of Málaga - Málaga

職歴
Spanish Teacher
University of Vilnius - Vilnius
Spanish Teacher
Centro Hispania - Vilnius
Spanish teacher for groups at Centro Hispania School (from 2018)
Writer
Three books published: "Tumba común" (poetry), ed. Gravitaciones, Gijón, 2017, by pseudonym Cristóbal Polo; "Cuentos premonitorios" (short stories), ed. Alfama, Málaga, 2008, by pseudonym Cristof Polo; "Tuviéramos" (poetry), ed. Ayto. de Málaga, Málaga, 2005; "Teoría del vuelo" (poetry), ed. Tierra, Zaragoza, 2003.
Spanish trainee teacher
International House - Barcelona
Spanish trainee teacher (practicum) at International House Barcelona (Barcelona, May 2016).
Communication Director
yaencontre.com (Grupo Godó) - Vilafranca del Penedès (Barcelon)
• Director of Comunication and Marketing in "yaencontre.com", Godó Group (Barcelona, July 2012 – September 2016).
Spanish teacher
Ziniu Gausa - Vilnius
Spanish teacher for groups and private classes at Žinių Gausa School (Vilnius, November 2016 – December 2016).
この言語を指導している先生を探す:
トライアルレッスン
One time, 30 minutes