有効期限:

00:02:24:21

(クーポンが残っています: 11)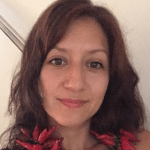 Patricia Rojas
スペイン
•
11:30 AM (GMT+01:00)
トライアルレッスン
One time, 30 minutes
先生の統計
非常に迅速に
2年前
100.00%
0
0.0 レッスン平均
新しい先生
指導専門分野
Central American Spanish
Latin American Spanish
レジュメ

学歴
Licenciatuta en Antropología Social
Universidad Autónoma de Chiapas - San Cristóbal de las Casas, Chiapas México.
Key principles of delivering learning

職歴
Profesora de Español
Tutora de Español para adultos - Rincón de la Victoria, Málaga, España
enseñanza del idioma español como lengua extranjera.
Spanish teacher and language Assitant
Cedars Upper School. - Leighton Buzzard, Bedfordshire England
Teaching Spanish as foreign language to students from 13 to 18 years olds.
Spanish teacher
SPARKS Adult Education - Leighton Buzzard, Bedfordshire England
Teaching Spanish as foreign language for adults

資格
Level 3 certificate in delivering learning
City & Guilds - Leighton Buzzard, Bedfordshire England
Key principles of delivering learning
この言語を指導している先生を探す:
トライアルレッスン
One time, 30 minutes