有効期限:

01:15:56:53

(クーポンが残っています: 33)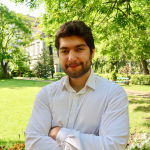 Bastien Bernard
フランス
•
8:58 PM (GMT+00:00)
先生の統計
数日以内
4年前
80.00%
44
4.4 レッスン平均
5.0
レジュメ

学歴
Master of Science (MSc)
Cranfield University - Cranfield, United Kingdom
Strategic Marketing - Thesis on Formula 1 Sponsorship
Bachelor of Commerce
McGill University - Montreal, Canada
General business education with major in Marketing

職歴
French tutor
Freelance - Montreal, Canada
Helped foreign students from China, Spain, Brazil, and South Korea improve their French conversational skills ahead of their University exam. Classes took place in informal settings, in cafés or libraries. Overall, I taught a total of 18 students on a regular basis for a period of 24 months.
Social Media Manager
Hashtag Media - Montreal Canada
Creation of digital marketing campaigns for clients across a variety of industries. Implementation of campaigns on online channels and social medias. Monitoring of social media accounts. Reporting of campaign data and results to clients.
Co-Founder
Fit Rebelle - Paris, France
E-commerce business selling fitness accessories for women. In charge of marketing and business development.
この言語を指導している先生を探す: