有効期限:

01:05:14:04

(クーポンが残っています: 22)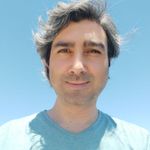 Can Ugur
トルコ
•
9:40 PM (GMT+03:00)
自己紹介
Merhaba!

I'm a Professional Turkish Teacher from Istanbul. I love teaching language. Before that, I worked as an editor for publishing houses and magazines. Currently, I am teaching Turkish full-time.

I have a bachelor's degree in journalism and a Turkish teaching certificate from a university in Istanbul. As a second university, I continue to study Turkish Language and Literature.

I am also closely interested in music. I play guitar and baglama.

During our classes, I'll pay attention to your issues/needs/difficulties, always taking notes during each class, and teaching the techniques to fix them.

I'm extremely positive, friendly, punctual, and patient, so you will not be stressed in my lessons :)

I'm experienced in teaching from absolute beginner level to C2 level.

I have had many students from different countries. I noticed that many of their mistakes come from their language. As your teacher, I will help you overcome the problems you will encounter with ease.

In the lessons, I use books and authentic materials according to your needs. My first goal as your teacher is to improve your speaking skills! I'll organize the lessons in a way that makes the students talk a lot. I'll provide lessons to attend to your needs! I have a lot of materials developed which will help you to achieve your goals. I have many topics of interest that we can talk about. I'm a people person and a good listener.

I think writing is one of the most important techniques for the development of speech. I will correct the texts you will write outside of the lesson.

For the general Turkish lessons, I use a book written by one of Turkey's leading universities. These books aim to improve all language skills (Speaking, listening, grammar, writing, reading. The most important part is speaking). All my students are satisfied with this book set. Also, the coursebook has a workbook and if you have time I can give you homework. I can send the pdf version of the coursebook, workbook, and mp3 files before the lesson.

I think the scientific approach and experience are the most important things in language teaching. I accept the "The Common European Framework of Reference for Languages" as a reference for the scientific approach.

I would be happy to assist you.

Please write to me with all your questions.
もっと見る
トライアルレッスン
One time, 30 minutes
先生の統計
数日以内
4年前
98.00%
154
30.0 レッスン平均
5.0
この言語を指導している先生を探す:
トライアルレッスン
One time, 30 minutes