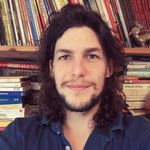 Hugo
フランス
•
1:35 AM (GMT-03:00)
使用できる言語
ネイティブ
,
C1
,
C1
,
A2
,
A1
自己紹介
Salut tout le monde ! Hi everyone ! 🔵⚪🔴 I'm Hugo Native French teacher with 10 years of experience with hundreds of students. If you want a training before an exam (DELF/DALF/TEF) I can help you. My students have 100% of success rate in the alliance française after my preparation. 🏆👨‍🏫

I also will help you to improve your speaking and writing skill and your accent.

For beginners, my lessons contain :
✔️ a slide of the lesson (PDF)
✔️ related exercises with a personnal correction
✔️ some words to learn for the next lesson
✔️ The video and the board of the lesson to download
✔️ 24/7 whatsapp or line, to ask me all your questions

If you are not beginner, we will do an evaluation during the first 30 minutes. It will help me to prepare a program for you. For the evaluation, I check :

✔️ you know to use the present tense
✔️ with irregular verbs
✔️ with pronominal verbs
✔️ you know how to speak about the past
✔️ you know how to speak about the future
✔️ You know how to count

For my lessons, you will need a notebook and a pen. I also prefer if you use a computer or a laptop, for the lessons, but if you just have a smartphone, it's ok, but it's less handy for some part of the exercises.

It's also important to use the webcam, cause I need to see the movements of your mouth to correct the pronunciation, and the lesson will be more pleasant if we see each other of course 👀

Voilà :) Don't hesitate to contact me if you have any question, or just to say hello 😊

en français on dit "bonjour"
もっと見る
トライアルレッスン
One time, 30 minutes
先生の統計
数時間以内
4年前
100.00%
1,154
12.1 レッスン平均
4.9
指導専門分野
Belgian French
Quebec French
レジュメ

職歴
French Teacher
at home - Buenos Aires, Argentina
French private tutor (FLE)
French Teacher
at home - Paris, France
French Teacher
Online - from Paris, France
French private tutor, for english and spanish speakers

資格
Enseigner le FLE aujourd'hui
Alliance Française - Vichy
この言語を指導している先生を探す:
トライアルレッスン
One time, 30 minutes