有効期限:

04:03:26:42

(クーポンが残っています: 55)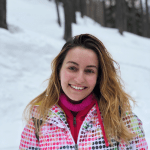 Jennifer Traini
イタリア
•
10:28 AM (GMT+01:00)
Active Promotion (

50%

off)
Ti sei mai chiesto come sarebbe una lezione di italiano? Pensi che 30 minuti siano troppo pochi per conoscere la tua insegnante ma una lezione da 60 minuti è troppo costosa? Usa questo coupon e avrai la prima lezione a metà prezzo!
Cosa aspetti?

Ever wondered how an Italian class would be like? Do you feel like 30 minutes is not enough to get to know your teacher but you don't feel like paying full price for a get-to-know class? Use this coupon and your first class will be 50% off!
What are you waiting for?
使用できる言語
ネイティブ
,
C2
,
C2
,
B1
,
A2
トライアルレッスン
One time, 30 minutes
先生の統計
1 日以内
5年前
93.00%
96
12.7 レッスン平均
4.7
レジュメ

学歴
Master in Foreign Languages
University of Milan - Milan
Focus on teaching techniques, education, linguistics, French.
Bachelor's Degree in Foreign Language and Literature
Università degli Studi di Milano - Milan, Italy
Focused on French and Swedish language and literature

職歴
French Teacher
/ - Milan, Italy
I teach French to kids and students who are having a hard time with it at school.
Italian Teacher
/ - Milan, Italy
I taught Italian to foreign students, focusing particularly on how to speak both formally and in a friendly context.

資格
DELF (B2)
/ - Ascoli Piceno, Italy
Assessment of my skills in French
Certificate of Advanced English (C1)
Cambridge University - Ascoli Piceno, Italy
Assessment of my skills in English
この言語を指導している先生を探す:
トライアルレッスン
One time, 30 minutes