有効期限:

05:01:07:45

(クーポンが残っています: 66)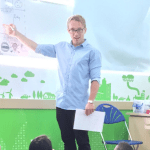 Josh Woodward
オーストラリア
•
7:47 PM (GMT+08:00)
トライアルレッスン
One time, 30 minutes
先生の統計
1 日以内
4年前
97.00%
33
7.0 レッスン平均
5.0
レジュメ

学歴
Honours Degree in History
Monash University - Melbourne, Australia
Environmental and Conservation History

職歴
Student Support Officer
Monash University - Melbourne, Australia
Helping international students with Academic writing and IELTS preparation.
English Language Teacher
Morgan School - Lecce, Italy
English teacher to students of all levels and all ages

資格
CELTA
検証済み
Monash University - Melbourne, Australia
The essential TEFL qualification that's trusted by employers, language schools, students and governments around the world. This course focusses on helping students improve in all areas of English and responding to individual learner needs. This certifies that I am an internationally accredited English teacher, not just someone that speaks English with an internet connection!
この言語を指導している先生を探す:
トライアルレッスン
One time, 30 minutes