有効期限:

01:02:23:12

(クーポンが残っています: 22)
Kai Borgvald は一時的に利用できません。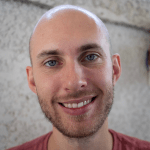 Kai Borgvald Humphreys
南アフリカ
•
6:31 AM (GMT-04:00)
トライアルレッスン
One time, 30 minutes
先生の統計
非常に迅速に
3年前
100.00%
7
6.0 レッスン平均
4.0
指導専門分野
American English
British English
Canadian English
South African English
レジュメ

学歴
Bachelor of Education
検証済み
UNISA - South Africa
This was a four year course that required me to learn all the main subjects of school and to teach them for 20 weeks to middle school students. I focused on languages, namely English as a first language and Portuguese as a third language and psychology.

職歴
EFL Teacher
検証済み
International House Cape Town - South Africa
Having taught many one on one and group general purpose, business and academic english lessons to students of all ages, from A1-C2 level and to students all over the world for over 5 years, I'm well prepared to address students' English needs.

資格
この言語を指導している先生を探す:
トライアルレッスン
One time, 30 minutes