有効期限:

03:08:36:30

(クーポンが残っています: 44)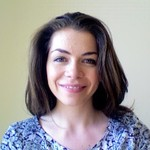 Lisa de Jong
イギリス
•
4:18 AM (GMT+00:00)
使用できる言語
ネイティブ
,
C1
,
C1
,
B1
,
B1
,
A2
トライアルレッスン
One time, 30 minutes
先生の統計
非常に迅速に
5年前
100.00%
30
5.0 レッスン平均
5.0
レジュメ

学歴
M.Phil Linguistics
Trinity College Dublin - Dublin, Ireland
Bachelor in Business Studies and French
Trinity College Dublin - Dublin, Ireland

職歴
English Language Teacher
Chapterhouse Education - Dublin, Ireland
I worked here as an English teacher to students from all over the world. I taught group classes and private classes of all levels. I taught grammar, pronunciation, phonetics, phonology, reading, writing, listening, speaking, presentation skills, interview skills, CV and cover letter writing, poetry, American Vs British and Irish English, as well as exam classes. I corrected homework and regularly gave feedback to students to help them continue their learning.
English Language Teacher
International House - Dublin, Ireland
I taught General English to all levels and all ages. I spent some time teaching children and teenagers. I prepared exams and helped adult students with CV writing and cover letter writing as well as practicing speaking English over the phone.
Localisation Support Technician
Google - Dublin, Ireland
I worked for the Google Apps for Enterprise support team in English, French and Dutch.In addition to supporting customers, I supported non native English speaking colleagues with emails, reports and presentations. I also completed an internal course to become an interviewer for Google so I have experience being on the other side in the Google interview! Finally, I also worked on a localisation project, helping Google to improve its product offering and support for international markets.
English Language Teacher
Berlitz Corporation - A Coruña, Galicia Spain
Spent 4 months in the summer teaching English to university students from all over Spain on an intense fluency course. Level tested students, prepared classes 3 x 2.5 hour classes every day - mainly conversation orientated but incorporating other skills, educational group activities, vocabulary, grammar, phonetics etc.

資格
CELTA
International House - Dublin, Ireland
Cambridge Certificate in Teaching English to Speakers of Other Languages
この言語を指導している先生を探す:
トライアルレッスン
One time, 30 minutes