有効期限:

00:17:15:23

(クーポンが残っています: 11)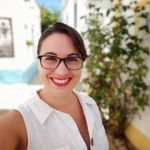 Lydie Marreiros - Certified University Professor
ポルトガル
•
7:39 AM (GMT+01:00)
Active Promotion (

15%

off)
Start learning Portuguese in the best possible way!
使用できる言語
ネイティブ
,
C1
,
B2
,
A1
,
自己紹介
**NEW HOURS AVAILABLE FROM SEPTEMBER 1ST**
Olá! ☺
My name is Lydie and I live in Portugal, in a beautiful city by the sea.
Personally, I love to learn languages. Besides my native language - Portuguese, I also speak English, Romanian and a little bit of French. So, I'm familiar with the issues that we face when learning a different language and I can help you with those.

I've been teaching languages since 2016 and, since 2021, I've been teaching Portuguese as a Foreign Language at the prestigious Universidade Nova de Lisboa, from where I also hold a postgraduate degree on Teaching Portuguese as a Non-native Language. I also hold a TEFL and a TEYL certificate and I am experienced in teaching grammar and conversation skills to children (from age 4) and adults. I enjoy teaching people from different cultures and I believe that we all have a lot to learn from each other.

I teach in a relaxed way, using the communicative approach, as I consider that it's better to learn a language through interaction and using contextualized vocabulary.
My lessons are designed to work on grammar, conversational skills and pronunciation. I can adapt the lesson to your specific needs and goals.

I'm looking forward for our first session! :)


もっと見る
体験レッスン
In this trial lesson, you get the opportunity to know my approach and the material I use. You can also share your goals so I can assist you in a more efficient way. All great journeys begin with the first step! :)
もっと見る
トライアルレッスン
One time, 30 minutes
先生の統計
1 日以内
6年前
100.00%
1,794
13.8 レッスン平均
5.0
レジュメ

学歴
Master's - Studies on Portuguese Language
Universidade Aberta - Lisboa, Portugal
This master's degree endows qualifications in the areas of teaching and research in the area of Portuguese Linguistics and Literature.
Postgraduate degree on Teaching Portuguese as a Non-native Language
Universidade Nova de Lisboa - Lisboa, Portugal
Licenciatura em Psicologia Social e Organizacional
ISCTE - Instituto Superior de Ciências do Trabalho e da Empresa - Lisboa, Portugal

職歴
Portuguese Teacher
Universidade Nova de Lisboa - Lisboa, Portugal
Portuguese Teacher
Portuguese Connection - Lisbon
Online Portuguese Teacher
この言語を指導している先生を探す:
トライアルレッスン
One time, 30 minutes