有効期限:

01:15:07:46

(クーポンが残っています: 33)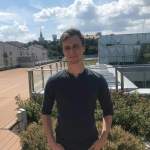 Matthew Brooke
イギリス
•
9:47 PM (GMT+00:00)
トライアルレッスン
One time, 30 minutes
先生の統計
非常に迅速に
2年前
100.00%
4
4.0 レッスン平均
5.0
レジュメ

学歴
BA Ancient History
Manchester University - Manchester
The focus of my degree was on ancient Greek and Roman history and culture.

職歴
PGCE history teacher
Manchester metropolitan university - Manchester
English teacher
Windsor school - Putingnano Italy
I worked for six months in Italy teaching English to a variety of ages and backgrounds
Sailing teacher
Activity Yachting - Croatia
I worked for three summers as a sailing teacher in Croatia.

資格
120 Tefl course
Tefl - online
online Tefl course of 120 hours
FGASA field guide South Africa
FGASA - Kruger national park
I took a two month course in South Africa where I learnt how to be a field guide. this included teaching tourists about the environment and wildlife.
RYA professional Yachtmaster
UKSA - Cowes
Professional sailing course that enables me to teach sailing and manage yachts
この言語を指導している先生を探す:
トライアルレッスン
One time, 30 minutes