有効期限:

03:22:19:50

(クーポンが残っています: 55)
Matthew は、新しい生徒を受け入れていません。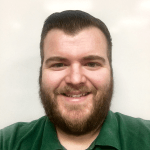 Matthew Griggs
米国
•
8:35 AM (GMT-06:00)
トライアルレッスン
One time, 30 minutes
先生の統計
数時間以内
4 years ago
98.00%
520
26.7 レッスン平均
5.0
レジュメ

学歴
Elementary Education
Cedar Rapids, Iowa
Endorsements in: K-6 Elementary Classroom, K-8 Reading, K-8 Language Arts
Associate of Arts
Cedar Rapids, Iowa

職歴
K-2 Title I Reading Teacher
Maquoketa, Iowa
Kindergarten - 2nd grade reading interventions
SES/NCLB Coordinator
Cedar Rapids, Iowa
Coordinate tutoring services for schools around the state of Iowa, including hiring teachers and creating individualized learning plans for each student
1st Grade Teacher
Anamosa, Iowa
Taught grade-level curriculum to 6-7 year olds, including reading and math.

資格
B.S. Elementary Education
Mount Mercy University - Iowa
This is my Bachelor of Science Degree in Elementary Education
Iowa Teaching License
State of Iowa - Iowa
This is a copy of my teaching license all teachers in the state of Iowa must possess in order to teach in the school system.
この言語を指導している先生を探す:
トライアルレッスン
One time, 30 minutes