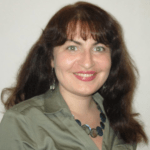 Lydia
ロシア
•
9:45 PM (GMT+02:00)
使用できる言語
ネイティブ
,
ネイティブ
,
C1
,
A2
,
A2
,
A1
トライアルレッスン
One time, 30 minutes
先生の統計
非常に迅速に
2年前
100.00%
0
0.0 レッスン平均
新しい先生
レジュメ

学歴
M.A. in Russian Philology
Taras Shevchenko Kyiv State University - Kyiv, Ukraine
Focus in Russian Language and Literature, English Studies

職歴
Russian, Ukrainian & English Languages Instructor
Private Language School - Kyiv, Ukraine
- Provided Russian & Ukrainian lessons to diplomats and international companies' employees; - Tailored English, Russian and Ukrainian teaching methods to suit the needs of individual students; - Created visual aids, board games, flashcards, and other learning materials; - Conducted workshops for Russian teachers; - Developed individual educational plans and special courses (Russian for business communication, Russian for diplomats, Russian for programmers, engineers and economists); - Prepared and conducted tests.
Russian Language Coach & Course Developer
Russian Voice Online School
Conducted online lessons for foreign students; Developed General and Business Russian courses; Created learning materials for online lessons.

資格
TESOL Certificate
Arizona State University - Arizona, USA
Teaching English as a Second or Foreign Language/ESL Language Instructor
Certificate of Achievement
St. Petersburg State Academy of Post-Graduate Pedagogical Training - St. Petersburg, Russia
Refresher Course in Teaching Russian Language and Literature
この言語を指導している先生を探す:
トライアルレッスン
One time, 30 minutes