有効期限:

00:17:23:05

(クーポンが残っています: 11)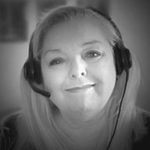 Nancy Sandvoll
ポルトガル
•
7:31 AM (GMT+01:00)
自己紹介
-- Please contact me for bookings! My availability changes all the time.--
I have many years of experience teaching "Norwegian as a foreign language" online, also many years of experience as a musician, teaching music and musical instruments. Teaching language is closely related to teaching music.

My academic background is in music and pedagogy from the Norwegian State Academy of Music, Berklee College of Music in Boston, USA, and "Norwegian as a second language for teaching adults" at Norway Inland University of Applied Sciences.

I was born in Norway in 1958. Since 1999, I have been living in Madeira, Portugal. My interests are many; music, photography, art, animals, nature, gardening, healthy food, teaching….

I am teaching Norwegian as a Second/Foreign Language online at Folkeuniversitetet Øst, mYngle and LTC language solutions, and I have private students. I have as well been teaching at Lingu Norge and Learnship and also at Berlitz Virtual Classroom (BVC) for a couple of years
before I was Lead Instructor – Recruitment and Training at BVC.

I love to teach my language! That's why you can find me here as Norwegian Online Teacher!
もっと見る
先生の統計
1 日以内
5年前
98.00%
250
12.0 レッスン平均
4.9
レジュメ

職歴
Teaching Norwegian
Lingu Norway - online
Norwegian as a foreign language
Teaching Norwegian
Berlitz Virtual Classroom - online
Norwegian as a foreign language
Teaching Norwegian
NorwegianOnlineteacher.com - online
Norwegian as a foreign language
Teaching Norwegian
mYngle - online
Norwegian as a foreign language
Teaching Norwegian
Learnship - online
Norwegian as a foreign language
Teaching Norwegian
Folkeuniversitetet Øst - online
Norwegian as a foreign language
この言語を指導している先生を探す: