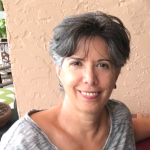 Paula Clark
米国
•
2:10 PM (GMT-05:00)
トライアルレッスン
One time, 30 minutes
先生の統計
数日以内
5年前
99.00%
222
11.2 レッスン平均
5.0
レジュメ

学歴
Teaching for Success: Lessons & Teaching
British Council - On-line
4 week course on 1) Planning lessons & courses 2) Managing resources 3) Managing Lessons 4) Taking responsibility for professional development
Understanding Language
University of South Hampton - On-line
4 week course on what is language, and how do we learn meaning in a new language.

職歴
On-line English Teacher
OpenEnglish.com - Venezuela/U.S.A.
Taught English on-line to mostly Spanish speakers. Target countries were South and Central America, Spain, and Brazil.
English Teacher
Private Tutor - Venezuela
Taught English to Spanish speakers, ranging from ages 6-50s, whether in a classroom setting, on a private basis, or on-line.
この言語を指導している先生を探す:
トライアルレッスン
One time, 30 minutes