有効期限:

07:04:44:08

(クーポンが残っています: 88)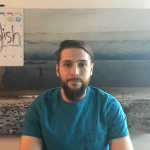 Andrei Bidu
マレーシア
•
4:10 PM (GMT+08:00)
トライアルレッスン
One time, 30 minutes
先生の統計
非常に迅速に
2年前
100.00%
0
0.0 レッスン平均
新しい先生
レジュメ

学歴
BA of Business Administration
検証済み
British Columbia Institute of Technology - Vancouver Canada

職歴
English Teacher
DaDaABC - Vancouver Canada
Teaching students from the ages of 4-18 years old the English language on an online computer application platform. Teaching grammar skills, reading and writing in an engaging way to keep the students energized in a 1 on 1 class. Maintain an excellent five star rating from parents and always submitting student feedback from each class within 24 hours.
English Teacher
VIPX - TAL Education Group - Vancouver Canada
Teaching young intermediate students advanced topic discussions and grammar in the English language. Teaching grammar skills, reading, conversational skills, listening to audio clips and analyzing. Always submitting student feedback within 24 hours for students to see areas of growth and plans to improve. Each student has a designated semester with me and each week has a different lesson plan written out by myself the week before so each class has maximum progression.
English Tutor
Cambly - Vancouver Canada
Teaching student from all around the world and all different ages. I have been able to assist with teaching exam preparation, interview preparation and business language. As well as teaching students conversational skills and helping develop their grammar, vocabulary and sentence structure. Discussions can be structured with lesson plans that I provide with any topic that interests the student or just pick up a free flow conversation and correct as we go along with assistance in helping student express their thoughts.
English Teacher
SAYABC - Vancouver Canada
Teaching English to young intermediate students in classes of three to four. Teaching grammar skills, conversational skills and discussing topic questions. Grading students on assessment tests and finishing assessment reports based on performance.

資格
TESL Canada Professional Certificate Standard Level 3
検証済み
TESL Canada Federation - Vancouver Canada
Teaching English as a Second Language
トライアルレッスン
One time, 30 minutes