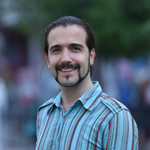 Kadir Tarık Yılmaz
トルコ
•
4:38 AM (GMT+03:00)
自己紹介
Merhaba! Hello! Turkish Learners From All Over the World! :)

I am a native Turkish speaker and certificated English Teacher. I have worked as an English teacher for various language teaching organizations and I have been teaching Turkish and English online and face-to face for all levels, for over five years.

I enjoy interacting with people from other cultures and sharing my culture as well. I have a lot of experience in teaching both Turkish and English online which includes over two thousand hours of online Turkish lessons. And, I have IELTS and TESOL certifications. I hope you will consider taking a lesson with a teacher who is relaxed and easy-going because that's my style.

TEACHING APPROACH

1-) What I really care about the lessons is the FLEXIBILITY in the teaching plan and the level of INTERACTION during the lessons, which must be never boring. I immediately adapt to students' level in the first lessons and consistently analyze achievements throughout the whole lessons.

2-) I always aim to create a COMFORTABLE atmosphere where the students are encouraged to use daily, survival language phrases. Students acquire the critical vocabulary and grammar usage rules through the communicative and dynamic question/answer approach.

3-)LISTENING and SPEAKING are the most important skills throughout the lessons and therefore I always try to make the students speak in Turkish asking little, easy and encouraging questions that lead them to speak intuitively.

4-)I provide all the materials including digital language books in pdf format and audio materials in mp3 format before the lessons. I always plan homework activities in order to keep students' Turkish alive.
もっと見る
トライアルレッスン
One time, 30 minutes
先生の統計
数時間以内
9年前
100.00%
1,539
51.9 レッスン平均
5.0
レジュメ

学歴
IELTS with 6.0 overall score
IELTS (International English Language Testing System) is the world's proven English test. More people go more places with IELTS. Over 1.7 million tests were taken last year enabling candidates to start their journeys into international education and employment. IELTS is recognised by more than 7,000 institutions in over 135 countries.

職歴
Online Turkish Language Lessons
I have a lot of experience teaching Turkish online. Having booked more than six thousand hours of online Turkish lessons, I have been working as an online tutor on different websites for more than five years.
この言語を指導している先生を探す:
トライアルレッスン
One time, 30 minutes