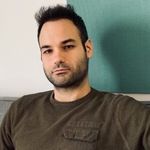 Yorgos
イギリス
•
1:00 PM (GMT+01:00)
使用できる言語
ネイティブ
,
C2
,
C1
,
B2
,
B1
,
B1
,
A2
,
トライアルレッスン
One time, 30 minutes
先生の統計
非常に迅速に
3年前
83.00%
6
6.0 レッスン平均
5.0
レジュメ

学歴
MA Linguistics, Language Description & Documentation
Leiden University - Leiden, Netherlands
MA Language & Linguistics
University of Aberdeen - Aberdeen, Scotland

職歴
Tutor and Proofreader for Academic English
Self-employed - Aberdeen, Scotland
Sharpening international students' performance in postgrad essays, through teaching them how to structure an academic paper, employ English academic-writing patterns, and present their ideas succinctly and coherently, adhering to academic standards.
English Tutor
Self-employed - Athens, Greece
Tutoring Greek pre-teens at A2-B1, guiding them through etymology, context and essay writing. Resources included animated series, songs and video games, according to students' individual interests. Observing what Greek speakers struggled with when learning English, granted me a solid understanding of my native language. In my current path as a Greek teacher, this has enabled me to mitigate two common challenges in teaching one's own mother tongue: comprehending intuitively-learnt structures, and seeing them through a non-native perspective.
Greek language teacher
Aberdeen Scottish Hellenic Society - Aberdeen, Scotland
Managing small adult classes. Culture, social register and etymology are integral parts of the teaching methods, enabling learners to develop an instinct for Greek. Oral practice is seamlessly incorporated in every interaction.

資格
Teach English as a Foreign Language Certificate
TEFL Org - Inverness, Scotland
Level 5 TEFL Accreditation
この言語を指導している先生を探す:
トライアルレッスン
One time, 30 minutes