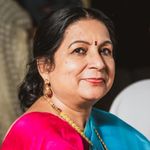 Beena Misra
인도
•
4:58 PM (GMT+05:30)
원어민 쌤 프로필
I am a Hindi teacher with a teaching experience of over 25 years. Over the past 20 years I have worked for in one of the most reputed schools in India.
I am also a Hindi Scholar (Vidvan) with a degree from Osmania University.

I have taught Hindi from junior kids to senior kids so no matter what level you start I can teach/help improve your Hindi.

My entire initial education has emanated from Kanpur, Uttar Pradesh, India. Kanpur is one of the few cities in India which is extremely well-known for its pure Hindi dialect – very sweet and pleasant to hear There is also no scope for any grammatical errors too.

In teaching a language, the most important element to connect with students is the way you fluently speak the language and towards this, my pure Hindi dialect with zero grammatical errors has helped me to connect very well with all my students. This is my forte and my main goal always is to ensure that the student learns the correct dialect with equal importance given to grammar. My focus also has been to push/encourage the students to speak/talk more and more in Hindi, in an easy and fun living manner. Here the apt saying will be "Oral Language is one of the foundational building blocks of learning"

My teaching methods also ensures that the mode of communication/conversation is also easy duly ensuring that the student immediately starts liking the Hindi language. It is also followed by providing materials for reading and undertaking periodic home works.

더 보기
시범 레슨
One time, 30 minutes
선생님 통계
몇 시간 이내
3년 전
100.00%
382
30.0 평균 레슨
5.0
교육 경력

경력

자격증
Hindi Vidhwan
확인됨
Hindi Prachar Sabha - Hyderabad
Focus on teaching Hindi to non-Hindi speaking students.
카테고리별 원어민 쌤 | 더 찾아보기:
시범 레슨
One time, 30 minutes