역대 최대 할인! 레슨 패키지 15% 할인 혜택.
만료일:

07:05:43:51

(쿠폰이 남았습니다.: 88)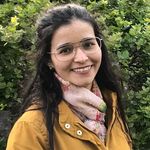 Yenny Rueda
콜롬비아
•
2:11 AM (GMT-05:00)
원어민 쌤 프로필
I have a degree in Spanish and Literature. I have one year experience with native high school students. A semester of experience in ELE with exchange students from my university and almost two years of experience as an au pair in the United States. Where I had the opportunity to teach my native language to my host kids and give some informal tutoring.
I am passionate about learning and teaching languages ​​so that, besides my native language, I speak English and French fluently. In addition, I am interested in developing my career in the field of Spanish as a foreign language because I think that everyone should have an intercultural experience at least once in their life. Since we live in a historical moment in which we are more connected than ever and in which traveling to other countries is increasingly affordable.
My goal as a teacher is to moderate a space where students have the opportunity to have an enriching experience that transcends academic boundaries. Especially as ELE teachers, I think that the cultural aspects of our country and of Spanish in general are inherent in teaching. From personal experience I know that learning a new language implies acquiring a new vision of the world. That is, expand our consciousness to a world of new possibilities and that is what I always try to transmit to my students.
In my short but enriching experience in the ELE area I have acquired skills such as:
• Identify the level of each new student and design a learning program appropriate to their needs.
• Select supplies and materials and adapt them to the context in which the class takes place. There are not too many Latin American Spanish textbooks or at least it is not so easy to access them. So the internet has become my main source to design my classes.
• Know how to listen and encourage the student to explore new areas of learning.
--------------------------------------------------------------------------------------------------
Soy licenciada en Español y Literatura de la Universidad Industrial de Santander, con experiencia de un año con estudiantes nativos de secundaria. Un semestre de experiencia en ELE con estudiantes de intercambio de mi universidad y casi dos años de experiencia como au pair en Estados Unidos. Donde he tenido la oportunidad de enseñarle mi lengua nativa a mis host kids y dictar algunas tutorías informales.
Me apasiona aprender y enseñar idiomas por lo que además de mi lengua nativa hablo fluidamente inglés y francés. Además, me interesa desarrollar mi carrea en el ámbito del español como lengua extranjera porque pienso que todo el mundo debería tener una experiencia intercultural al menos una vez en su vida. Ya que vivimos en un momento histórico en el que estamos más conectados que nunca y en el que viajar a otros países es cada vez más asequible.
Mi objetivo como docente es moderar un espacio en el que los estudiantes tengan la oportunidad de tener una experiencia enriquecedora que logre trascender los límites académicos. Especialmente como docentes de ELE, pienso que los aspectos culturales de nuestro país y del español en general son inherentes a la enseñanza. Por experiencia personal sé que aprender un nuevo idioma implica adquirir una nueva visión sobre el mundo. Es decir, expandir nuestra conciencia a un mundo de nuevas posibilidades y eso es lo que siempre intento transmitir a mis estudiantes.
En mi corta pero enriquecedora experiencia en el área de ELE he adquirido habilidades como:
• Identificar el nivel de cada nuevo estudiante y diseñar un programa de aprendizaje adecuado a sus necesidades.
• Seleccionar suministros y materiales y adaptarlos al contexto en el que se desarrolla la clase. No hay demasiados libros de texto de español latinoamericano o al menos no es tan fácil acceder a ellos. Por lo que internet se ha convertido en mi fuente principal para diseñar mis clases.
• Saber escuchar e incentivar al estudiante a explorar nuevas áreas de aprendizaje.

시범 레슨
One time, 30 minutes
선생님 통계
매우 빠름
2년 전
100.00%
1
0.0 평균 레슨
새로운 원어민 쌤!
교육 경력

학위
Licenciada en Español y Literatura
확인됨
Universidad Industrial de Santander - Bucaramanga
시범 레슨
One time, 30 minutes