역대 최대 할인! 레슨 패키지 15% 할인 혜택.
만료일:

05:13:48:54

(쿠폰이 남았습니다.: 77)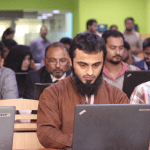 Umair Rafique
파키스탄
•
4:06 AM (GMT+05:00)
시범 레슨
One time, 30 minutes
선생님 통계
몇 일 이내
5년 전
44.00%
45
10.3 평균 레슨
5.0
원어민 선생님의 전문 분야
Modern Standard Arabic (al-fusha)
교육 경력

경력
Teacher
Reflections School - Karachi, Pakistan
Teacher of Tafseer in the Arabic language
Founder and lead instructor
Al-Itqan academy for Arabic language - Karachi, Pakistan
I am the founder of this institute where I teach the Arabic language to people seeking to travel, to read medieval Arabic texts, or to prepare for any competitive examination.
Teacher and Coordinator
The Intellect School - Karachi, Pakistan
Teacher and Coordinator for the subject of Arabic language in the Secondary Section. My job is to manage a team of 4 teachers of the Arabic language teaching Grades 4 to 6, and myself had to teach grades 7 to 9 and prepare them to appear for the Arabic GCSE examination.

자격증
Arabic language, Grammar, Literature, Rhetoric and Religious Sciences
Madrasah Ibn e Abbas - Karachi, Pakistan
A 7 year intensive course on Arabic language and all it's sciences, and Religious Sciences in the Arabic medium
카테고리별 원어민 쌤 | 더 찾아보기:
시범 레슨
One time, 30 minutes