역대 최대 할인! 레슨 패키지 15% 할인 혜택.
만료일:

01:17:56:41

(쿠폰이 남았습니다.: 22)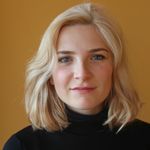 Mathilde Costes
프랑스
•
2:58 AM (GMT-03:00)
나의 언어
원어민
,
원어민
,
C1
,
C1
,
A1
원어민 쌤 프로필
Hi everyone!
I am a polyglot and I've always loved diving into cultures and languages!
I've started teaching French in schools in 2012 where I was completely independent in the matter of designing my class and that allowed me to experiment with different tools for blended learning: I wanted to create content that was fun to learn with!

I kept teaching Molière's mother tongue opting for private lessons at home and I sticked in the sector of education becoming a Youth Worker involved in European projects for youth.

As a European projects coordinator I had to create different thematic trainings: workshops, webinars, and seminars. And that experience brought me new teaching skills! Non-formal education methods, a more holistic approach as well as technological allies to vary my classes (Moodle, Videoscribe, Kahoot, Prezi, Crowdsignal, Slido). I see teaching as mutual process that enriches us and during 1 year I implemented and coordinated a program of linguistic tandems.

I design my lesson having in mind a specific learning target.
How is this learning target defined? It is greatly linked with the goals of the learner and it is reached by taking the cognitive style of the student into account.
Do you need an overview to learn a new subject? Or you prefer to be able to focus on the individual parts of a theme to assimilate it effectively? Do you use single words or associations of words to remember or do you employ images to stimulate your memory?

We are aware that our memory works with the right space repetition and in hand in hand with emotions.
Let's find together effective, enjoyable methods! Let's start your learning journey!

더 보기
나의 체험 레슨
During the first class I focus on: getting to know each other, understand the student's goal, briefly assess their level, explain my method and how we will define their learning plan.
더 보기
시범 레슨
One time, 30 minutes
선생님 통계
24시간 이내
4년 전
100.00%
885
14.4 평균 레슨
5.0
교육 경력

학위
Bachelor in Economics
Università degli studi di Modena e Reggio Emilia - Facoltà Marco Biagi - Modena
B2 certified in Spanish and English
LLP Erasmus and International business program
Universidad de Alicante - Alicante
year long studies in Spanish and English

경력
Online Teaching
Mentoring in language learning
Youth Worker
YouNet - Bologna
Coordinating international projects for youth. Background in non-formal education and professional fluency in English
French teacher
Benedict School - Reggio Emilia
Designing and leading French lessons for local Middle School

자격증
Learning How to Learn: Powerful mental tools to help you master tough subjects
McMaster University & University of California San Diego - Coursera MOOC
Learning techniques, learning modes, illusions of learning, memory techniques, dealing with procrastination.
Enseigner le français langue étrangère aujourd'hui - Parcours avancé
CAVILAM - Alliance Française de Vichy - Mooc
Elaborate a pedagogical sequence and create a pedagogical activity, use a video in a pedagogical sequence, use authentic documents, work on grammar and lexicon in a pedagogical sequence.
Enseigner le français langue étrangère aujourd'hui - Parcours découverte
CAVILAM - Alliance Française de Vichy - online MOOC
Principles of teaching French as a foreign language, animation of the class, exploitation of authentic documents when designing an activity, how to create your learning material
카테고리별 원어민 쌤 | 더 찾아보기:
시범 레슨
One time, 30 minutes