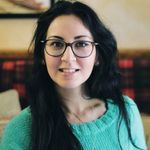 Cindy
이탈리아
•
3:31 AM (GMT+02:00)
나의 언어
원어민
,
원어민
,
C2
,
A2
,
A1
원어민 쌤 프로필
I was preparing a lesson for a student of mine, when I found myself struggling with a translation. The word was "cavare". «Pull out» I thought. But then… was there a better word? "Cavare", in Italian, doesn't only mean "to pull out", that would be "estrarre", "tirar fuori", "rimuovere" or something else. "Cavare" has the word "cavità" (cavity) in it. "Cavare" means "to extract from a cavity", "to remove and leave a cavity" and I couldn't find a single word in English that suited the perfect meaning.

This happens to me all the time, as I speak three languages daily and I am a "word perfectionist": I am fascinated by the meaning that every word can have, those little shades of significance that can only be understood by those who profoundly study a language.

And that is what I do: I study, all the time, to speak each of my three languages at its best, and I teach, to make my students learn properly the meaning of words and their best combination.

My name is Cindy and I am a language tutor and writing coach.

With me you will be learning Italian in the way I believe to be the most efficient of all: through speaking, reading and writing.

During my lessons, you will, most of all, speak and read. I will correct your pronunciation, make it perfect, as I am studying "dizione" (Italian diction) and I have no dialectal inflections, no regional slang. I will give you, if needed, detailed grammar notions and tricks in order to understand the most common mistakes and avoid them forever.

Then, the coaching will come.

I will give you homework (only, of course, if you agree), which mainly consist in writing small texts on a given subject. I will correct them meticulously outside the lesson time, giving you all the tools you need to better your writing and, therefore, your speaking. Writing is a very effective way to fix not only the spelling, but also the best sentence structure and all the grammar notions: that's why I really recommend my students to write.

Speak. Read. Write.

That's it.

***

You find all relevant information about my studies and my job experience in my profile. I am also writing a FAQs section you will find below, but, please, feel free to write me if you need to know more or if you just want to chat with me before booking a lesson!
더 보기
시범 레슨
One time, 30 minutes
선생님 통계
몇 시간 이내
5년 전
100.00%
2.059
26.7 평균 레슨
5.0
교육 경력

학위
English Teacher for Preschoolers
Helen Doron English - Rome
Participation as auditor in an English course for four-year-old children, in order to learn language teaching methods for preschoolers.
Secondary School Diploma
Istituto di Istruzione Superiore G. Bertacchi - Lecco
Secondary School with specialization in Modern Languages and Literature.

경력
Italian Tutor
Online
Italian Online Tutor for English and Spanish speakers.
Content Creator & Blogger
Online
Content Creation both in English and Italian for culinary blogs. Website management, graphic design, copywriting and social sharing.
"Aperigame" - Event Manager
Lecco
Ideation and organisation of the events called "Aperigame", an happy hour game in English for Italians. Participants were required to speak in English while playing games such as Pictionary and Taboo.

자격증
I.E.L.T.S. - International English Language Testing System
British Council - University of Cambridge - Milan
General Training Test - Overall Band Score 7.0 [C1]
Kangourou della Lingua Inglese
British Institutes - Kangourou Italia - Milan
KET - Key English Test
University of Cambridge - ESOL Examinations - Milan
카테고리별 원어민 쌤 | 더 찾아보기:
시범 레슨
One time, 30 minutes