역대 최대 할인! 레슨 패키지 15% 할인 혜택.
만료일:

03:22:02:47

(쿠폰이 남았습니다.: 44)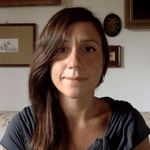 Giulia Lafasciano
이탈리아
•
3:52 AM (GMT+02:00)
원어민 쌤 프로필
Ciao,
my name is Giulia, I'm an Italian teacher and I've been teaching for 6 years already.
My lessons are interactive, and therefore we will practice a lot through conversation which will help you to gain confidence in communicating and understanding Italian in typical "everyday scenarios", and most important we will learn the Italian language using a cultural approach more than an academic one, without, however, neglecting the study of grammar and pronunciation. During every lesson, we will travel among our "Bella Italia" discovering its music, flavours, customs, traditions, history and art, all the treasures that distinguish us from the rest of the world. We will combine business with pleasure: it will be fun to study Italian together.


더 보기
시범 레슨
One time, 30 minutes
선생님 통계
몇 일 이내
5년 전
99.00%
1.536
26.4 평균 레슨
4.9
교육 경력

학위
Iniziativa Formativa "Insegnare italiano a italiani e stranieri"
Loescher Editore - Italia
Il ruolo del lessico nella comunicazione, il ruolo della grammatica
Certification in Teaching Italian to Foreigners - Cedils
University Ca' Foscari of Venice - Milan (Italy)
Certification in teaching Italian to foreigners
Master Degree
Università Pompeu Fabra - Barcellona
Master Degree in Management of Immigration
Degree in International Communication
Università per Stranieri - Perugia, Italia
Marketing, Spanish Language, Politics

경력
Private Lessons of Italian Language
Barcelona, Spain
Private Lessons and Individual Italian Courses
Teaching English
Humanitarian Support Agency - Lesbos, Greece
Volunteering Teaching English to Immigrants
Teaching Italian
Associazione 20k - Ventimiglia, Italia
Teaching Italian to Immigrants
Teaching English
Asociación Niños del Lago - Guatemala
Volunteering Teaching English to Locals

자격증
IELTS, English Language Certification
University of Westminster - London, United Kingdom
English Language Certification
카테고리별 원어민 쌤 | 더 찾아보기:
시범 레슨
One time, 30 minutes