역대 최대 할인! 레슨 패키지 15% 할인 혜택.
만료일:

03:07:43:14

(쿠폰이 남았습니다.: 44)
Brooke 님은 일시적으로 이용 불가합니다.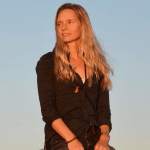 Brooke Safford
미국
•
10:11 PM (GMT-07:00)
시범 레슨
One time, 30 minutes
선생님 통계
몇 시간 이내
3 years ago
100.00%
10
3.0 평균 레슨
새로운 원어민 쌤!
교육 경력

학위
MLA in Landscape Architecture with a minor in Community and Regional Planning
University of New Mexico - Albuquerque, New Mexico
Completed a four-year Masters program in Landscape Architecture and Community and Regional Planning
B.A. in Spanish
University of Montana - Missoula, MT
Received a B.A. in Spanish with a minor in Environmental Studies.
Study Abroad Program
Universidad Complutense de Madrid - Madrid, Spain
Was one of 13 students chosen to study in Spain through the International Student Exchange Program (ISEP). I was matriculated as a full-time student during my junior year in college and the credits I received were transferred to the University of Montana when I returned.
Private Study Abroad
College International de Cannes - Cannes, France
Took a gap year between high school and college to live with a French family in Southern France. I also attended school to immerse myself in the French language.

경력
ESL Tutor
Durango Adult Education Center - Durango, CO
Taught ESL to a student from Mexico
Outdoor Recreation Planner
Great Basin National Park, National Park Service - Baker, NV
Provided professional planning and landscape architecture expertise for outdoor recreation and capital improvement projects for Great Basin National Park (GRBA). Projects encompassed trail and trailhead design and layout, campground design and development, landscape restoration, studies on visitor use and experience, land suitability and visual resource analyses, development of interpretive and informational media, environmental assessment, outdoor recreation plans and programs, wilderness planning and management, supervision of trail and maintenance crew, GPS field data collection, generation of cartographic products via ArcGIS, managing database files, and other outdoor recreation planning related activities.
Outdoor Recreation Planner
National Trails Intermountain Region, National Park Service - Santa Fe, NM
Provided professional planning expertise for resource management, site development, road sign plans, and other planning-related activities for nine national historic trails. Managed and generated cartographic products for web-based applications and print. Maintained and developed geodatabases and GIS data for the office. Produced high quality maps for publication and office needs. Collect data in the field using GPS technology. Served as principle author and co-author to various documents including newsletters, trail feasibility studies, comprehensive management and use plans, as well as environmental assessments/environmental impact statements. Wrote and designed interpretation and public outreach material. Wrote scripts and assisted in the filming and development of webcasts and other multimedia material. Designed and managed trail websites. Facilitated and conducted presentations at public, partner and interagency meetings. Provided technical assistance to a variety of partners on trail and site planning. Participated in the review of in-house and external documents.
Community Coordinator
Program of Academic Exchange (PAX) - Santa Fe, NM
Served as a community coordinator to facilitate the placement and supervision of foreign exchange students in high schools and with volunteer host families. Served as the main point-of-contact for students and host families. Engaged students in various extra-curricular and community service activities to enrich their exchange experience. Networked and conducted public outreach activities to generate interest in PAX programs in the community. Secured approval for enrollment of the international students in local high schools. Recruited and screened volunteer host families for international students each year. Provided orientations for both host families and students. Submitted bi-monthly progress reports to PAX on students and host families. Students came from countries all over the world including but not limited to Mali, Ethiopia, Indonesia, Thailand, Azerbaijan, Macedonia, Nigeria, Pakistan, Jordan, Israel, Venezuela, Saudi Arabia, Spain, Germany, and France.
ESL Tutor
Literacy Volunteers of Santa Fe - Santa Fe, NM
Served as a mentor and instructor of English as a Second Language (ESL) to adult learners in the Santa Fe area. Tutored individuals and groups on a weekly basis. Devised weekly lesson plans that focused on building fluency in vocabulary, reading comprehension and writing skills. Incorporated creative ways to facilitate learning ESL through games, images, songs and interactive experiences. Monitored progress through the submission of weekly evaluation reports.
ESL Instructor
Sao Paulo, Brazil
Taught group and individual ESL lessons to executives, as well as college and high school students in São Paulo, Brazil. Developed lesson plans based on client's needs and skill level. Introduced innovative and fun teaching tools that facilitated learning and comprehension. Administered tests and graded homework.
Online ESL Instructor
ESL with Brooke - Durango, CO
Teach English as a Second Language (ESL) online (via Skype) to non-native speakers. Provide one-on-one sessions for beginner, intermediate and advanced speakers to assist with English reading, writing, and conversational skills. Develop and create individual lesson plans catered to the individual's skill level and specific needs. Utilize innovative and fun teaching tools that facilitate learning and comprehension.

자격증
120 Hour Certificate in TEFL with TEYL
Intesol Worldwide - Chesire, United Kingdom
Certification course to Teach English as a Foreign Language
카테고리별 원어민 쌤 | 더 찾아보기:
시범 레슨
One time, 30 minutes