10% 할인 혜택을 받으면 더 적은 비용으로 더 많이 배울 수 있어요.
만료일:

05:06:10:33

(쿠폰이 남았습니다.: 66)
Nadja님은 현재 새로운 학생을 받고 있지 않습니다.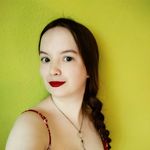 Nadja Riesner
독일
•
7:44 PM (GMT+02:00)
나의 언어
원어민
,
C2
,
C2
,
B2
,
B1
,
B1
,
A2
시범 레슨
One time, 30 minutes
선생님 통계
몇 시간 이내
일 년 전
99.00%
186
15.3 평균 레슨
5.0
교육 경력

학위
Master German literature
Eberhard-Karls Universität - Tübingen, Baden-Württemberg, Germany
Specialized in Post-War poetry
Bachelor German Studies and Philosophy
Eberhard-Karls Universität - Tübingen, Baden-Würrtemberg, Germany
Major both linguistics and literature, minor in philosophy

경력
Language Partner | Sprachpartner
Italk Sprachschule - Zürich, Switzerland
I talked to the students via video call, practising their material, focusing on grammar and new vocabulary and giving them an opportunity to speak with a native speaker about all sorts of different subjects. The only document I have from my time working there is the framework agreement.
Independent Teacher
Aprender alemán con Nadja - Germany
I created my own professional website and accounts on social media where I offer material for students who speak Spanish as their native language. All the material was created by myself an consists of infographics, articles, videos and more.

자격증
Training Intercultural
Eberhard-Karls Universität - Tübingen, Baden-Würrtemberg, Germany
Certificate of a C1-level class in Spanish teaching Intercultural Skills (as a student)
카테고리별 원어민 쌤 | 더 찾아보기:
시범 레슨
One time, 30 minutes