역대 최대 할인! 레슨 패키지 15% 할인 혜택.
만료일:

04:03:20:04

(쿠폰이 남았습니다.: 55)
Cinzia 님은 일시적으로 이용 불가합니다.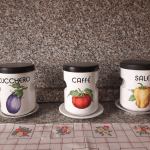 Cinzia Pandolfi
이탈리아
•
10:34 AM (GMT+01:00)
시범 레슨
One time, 30 minutes
선생님 통계
매우 빠름
4년 전
100.00%
2
0.0 평균 레슨
5.0
교육 경력

학위
Specialization in teaching italian as second language
University of Florence - Firenze
Learn italian as second language is not as learn italian as native speaker. During this course I learn techniques to facilitate learning for foreigners.
Degree in Educational Science
University of Florence - Firenze
literature, methodology of teaching italian language to foreigners, padagogy
Italian teacher
School of Tomsk - Russia
I taught russian children and russian teenegers italian language.

경력
Italian teacher
Primary school of Florence - Firenze
LEARN INTALIAN,COOKING! A RECIPE TO LEARN ITALIAN: SCHIACCIATA ALLA FIORENTINA There are many ways...
카테고리별 원어민 쌤 | 더 찾아보기:
시범 레슨
One time, 30 minutes