10% 할인 혜택을 받아 더 많이 배워 보세요.
만료일:

02:19:53:35

(쿠폰이 남았습니다.: 44)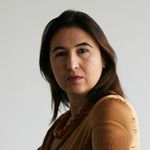 Zara Audiello
이탈리아
•
6:01 PM (GMT+01:00)
선생님 통계
매우 빠름
5년 전
100.00%
0
0.0 평균 레슨
새로운 원어민 쌤!
교육 경력

학위
Course for Curators of events
Public Center of Contemporary Art A+A - Venezia, Italia
focus on Art Management and cultural event
Master in Educazione Interculturale
Universita' di Roma III - Roma, Italia
Approccio all'insegnamento a studenti stranieri.
Laurea in Scienze Umanistiche.
Università "La Sapienza" - Roma, Italia
Focus sul cinema, il teatro e la cultura Italiana contemporanea.

경력
Scuola Gianni Rodari
Scuola Gianni Rodari - Belgrade, Serbia
Focus on Italian language and culture
Director
Beo_Project - Belgrade, Serbia
Beo_Project is one of the first international project space in Belgrade. The collective provides a platform for the exchange of ideas within the intersection of different artistic disciplines. The main focus is to create a space for artists and curators where is possible to share ideas and work, exhibit and perform.