역대 최대 할인! 레슨 패키지 15% 할인 혜택.
만료일:

01:04:49:25

(쿠폰이 남았습니다.: 22)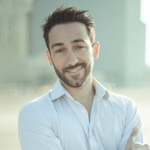 Raffaele Muraca
이탈리아
•
7:05 PM (GMT+00:00)
원어민 쌤 프로필
CIAO! My name is Raffaele and I am a native Italian speaker who has been living abroad for 7 years (so I know the initial difficulties to learn and speak a different language).

I have a Bachelors degree in Pedagogy and I have been working as an Italian teacher for foreigners/ refugees and in school projects with teenagers who dropped out of high school, since 2004. So if you are a shy beginner do not worry, we will build your confidence together through chats, games and laughs.
My lessons are interactive and involve a lot of conversation.

You'll set the goals and I'll tailor the classes to your needs and on your learning mechanisms. I will provide you with all the materials you need like: exercises, videos, podcasts, articles and everything that can suit your learning.

I can teach Italian from A0 to B2 (from full beginner to intermediate/advanced) students.

So, feel free to set a trial lesson with me :)

더 보기
나의 체험 레슨
In my trial classes, I usually check the language skills of the new student and discuss together a learning plan, based on their availability and goals.
더 보기
시범 레슨
One time, 30 minutes
선생님 통계
몇 시간 이내
4년 전
100.00%
1 502
25.6 평균 레슨
5.0
교육 경력

학위
Bachelors Degree in Pedagogy
확인됨
Università degli Studi di Milano Bicocca - MIlano
Foundation in Educational Science

경력
Facilitator and teacher
Scuola Popolare "I Care" - Ass. Antigua O.N.L.U.S. - Milano
Facilitator and teacher.Worked as a part of a team with teachers and facilitators at a second-chance secondary school, Scuola Popolare "I Care". Teacher of all the subjects for adolescents with a high drop-out rate. Responsible for monitoring, evaluating and recording the educational progress of students. Created educational programs for the achievement of personal autonomy. Conducted interviews with students and their families to assess and review their personal situation. Offered ongoing support to students and their families. Liaised with parents and schools to confirm individual needs and development plans. 
Facilitator in House Family
확인됨
Progetto Erasmus Coop. Soc. La Cordata - Milano
Educator and Facilitator in a house family during the day. Guidance to independence for foreigner children between the ages of 16 and 18 who lived the experience of migration and family abandonment. Through teamwork and an educational presence limited to daylight hours, are designed and made for each user growth paths that link to form in a short time (from six months up to one year or so) the child as a citizen and worker. Education and professional training are the main points of the path of every guest who at the same time is supported in the testing of their daily self: learn the Italian language, how to manage personal relationships, items, their own spaces, and municipalities.
카테고리별 원어민 쌤 | 더 찾아보기:
시범 레슨
One time, 30 minutes