10% 할인 혜택을 받아 더 많이 배워 보세요.
만료일:

04:19:13:14

(쿠폰이 남았습니다.: 66)
Alberto 님은 일시적으로 이용 불가합니다.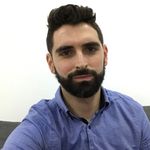 Alberto
스페인
•
6:41 PM (GMT+01:00)
시범 레슨
One time, 30 minutes
선생님 통계
몇 일 이내
7년 전
81.00%
224
7.1 평균 레슨
5.0
교육 경력

학위
MA in Teaching Spanish as a foreign language
Full academic year qualification issued by CIESE (International Centre of Higher Spanish Studies) and the University of Cantabria. Master's thesis; Spanish for the healthcare; curricular design of a Spanish course for professional purposes
BA in English Studies
English linguistics and English and North American literature
BA in Education - English language specialist
Qualified English teacher for primary and secondary school students in Spain

경력
Spanish language teacher
University of Cantabria - Santander, Spain
Spanish teacher for summer language courses at CIUC (Centro de Idiomas Universidad de Cantabria-University Language Center).
Spanish language teacher
Language School - Madrid, Spain
Spanish teacher for groups A1-C2, DELE, University, GCSE/A-level..
Spanish (A-Level/GCSE) and French (GCSE) language specialist
Tunbridge Wells, UK
I worked in the MFL department of a secondary school in south east England (Kent)
Spanish language specialist (GCSE/A-Level)
Basingstoke, UK
I worked in the MFL department of a secondary school in north-east Hampshire, UK
Spanish language specialist (GCSE/A-Level)
Manchester, UK
I worked in the MFL department of a secondary school in the Manchester area,UK
English language tutor
I have tutored students who wanted to improve their general English or take exams such as KET, PET or FCE
Online Spanish teacher
To date I have delivered more than 2300h to students from very diverse cultures and with a wide variety of levels and linguistic goals

자격증
Cambridge Advanced (CAE) - C1
카테고리별 원어민 쌤 | 더 찾아보기:
시범 레슨
One time, 30 minutes