역대 최대 할인! 레슨 패키지 15% 할인 혜택.
만료일:

00:11:01:46

(쿠폰이 남았습니다.: 11)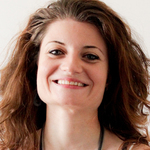 Alice G
스페인
•
2:53 AM (GMT+01:00)
나의 언어
원어민
,
C2
,
C2
,
C1
,
B2
,
A2
,
A2
시범 레슨
One time, 30 minutes
선생님 통계
24시간 이내
5년 전
100.00%
1 583
29.4 평균 레슨
5.0
교육 경력

학위
Teaching Italian as a second Language
torre di babele - Roma
Italiano LS e L2; Teaching methods (Communicative approach); Authentic language and authentic materials; Development of language skills; Language teaching for beginners; the Common European framework; Operating models and design criteria; Selection and use of authentic materials; Design activities for different contexts and user profiles;
Accademia Belle Arti
Università l'Aquila - l'Aquila
art, painting, drowing, sculpture,
Tecnico Superiore per la Comunicazione e il Multimedia
Polo Formativo Cinema e Audiovisivo della Regione Lazio - Roma
Progettazione di soluzioni per la comunicazione integrata, progettazione e creazione di prodotti multimediali, strategie comunicative, linguaggi multimediali
Architecture Degree
Università Roma Tre - Roma
Architecture History, Art, drawing tecniques, design, workshop, planning, laboratorial activity
Humanistic Diploma
Liceo Classico F.A. Gualterio - Orvieto
Italian literature; Philosophy; Italian Grammar;Ancient Greek; Latin;Translation techniques; Translation: ancient greek>italian, latin>italian

경력
Italian teacher
Roma (italy), Curitiba (brasil)
Italian lesson at home and on line: -design and customize lesson according to student level, interests and needs;-motivate and follow the student in his growth path; -look for and choose authentic didactic materials.

자격증
CELI Examiner
Cedis - Certificazione e Didattica Italiano per Stranieri - Roma
Examinator for the CELI test (Certification of Italian as a Foreign Language) of the University of Foreigners of Perugia
DITALS I(Certificate in Teaching Italian as a Foreign Language)
University for Foreigners of Siena - International University
Certifies the teaching competence in Italian as a Foreign Language, especially with regard to adults students
카테고리별 원어민 쌤 | 더 찾아보기:
시범 레슨
One time, 30 minutes