역대 최대 할인! 레슨 패키지 15% 할인 혜택.
만료일:

04:00:33:13

(쿠폰이 남았습니다.: 55)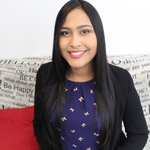 Astrid Boduen
아르헨티나
•
8:21 PM (GMT-03:00)
원어민 쌤 프로필
Hi everyone. My name is Astrid, I'm from Venezuela. I have more than 7 years of experience in the field of language teaching. I invite you to learn Spanish with me dynamically and efficiently, my accent is completely neutral. I'm a very patient and friendly person, so, don't hesitate to contact me, I am waiting for you!

더 보기
나의 체험 레슨
Let's take this lesson to know each other a little, in this way I will be able to know your level in the language, you can share your goals with me during the learning process, also at the end of the lesson I always give feedback about your Spanish and explain a plan for you according to your level.
더 보기
시범 레슨
One time, 30 minutes
선생님 통계
매우 빠름
8년 전
98.00%
1.902
10.7 평균 레슨
5.0
교육 경력

학위
Petroleum Engieneering
Universidad del Zulia - Cabimas, Venezuela

경력
Virtual Spanish Trainer
Learnlight - Holland
- Teaching Spanish Business Courses - Delivering dynamic, effective, and engaging sessions to students from around the world. - Designing a personalized program for students to suit their specific needs - Providing valuable, written feedback to students after each session. - Monitoring students' progress via the Learnlight Platform and guiding students toward their learning goals. - Communicating in an efficient, effective, and professional manner with internal teams
Online Spanish Community Tutor
Italki HK Limited - China
Teaching and creating adult and children's intensive courses from beginner to advanced levels.
Online Spanish (ELE) Teacher
Babbel GMBH - Germany, Berlin
- I'm responsible for teaching groups classes, of a range of levels from A1 to C1. - I'm in charge of managing my time as well as the resources used, addressing the demands of my students, and keeping in contact with the Babbel Teacher Management Team.

자격증
Certificado Universitario de Especialización en Enseñanza de ELE en línea
확인됨
Universidad Europea Miguel de Cervantes - ELE Internacional - Valladolid, España
Curso universitario de especialización en Enseñanza de ELE en línea 150h.
Advanced English
Centro Venezolano Americano del Zulia - Cabimas, Venezuela
카테고리별 원어민 쌤 | 더 찾아보기:
시범 레슨
One time, 30 minutes