만료일:

01:05:56:27

(쿠폰이 남았습니다.: 22)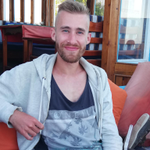 Chris
벨기에
•
9:58 AM (GMT+03:00)
시범 레슨
One time, 30 minutes
선생님 통계
몇 시간 이내
2년 전
100.00%
144
7.9 평균 레슨
5.0
교육 경력

학위
M.A. multilingual professional communication
University of Antwerp - Antwerp, Belgium
Focus on optimal use of mostly our native language, Dutch, and one foreign language to a lesser extent, in a professional and business context. Courses like 'strategic business communication', 'language in operation', 'communication research' (for master dissertation), 'intercultural communication' etc.
B.A. applied linguistics Dutch-French-Spanish
University of Antwerp - Antwerp, Belgium
Focus on a deep understanding of our native language, Dutch, and of two foreign languages (for me French and Spanish). Courses like 'grammar', 'text comprehension', 'text analysis', 'linguistics', 'translation', 'oral and written text production' etc.

경력
Dutch tutor
Privately - Antwerp (Belgium), Grenoble (France), Goa (India)
Teaching foreigners who were living or willing to live in Belgium or the Netherlands. Either complete beginners, either just practicing speaking skills. Also taking part in language exchange events.
French tutor
Privately & Educadomo - Antwerp (Belgium)
Helping mostly Belgian students with their French school assignments, theory explanations and speaking skills. Both privately and for a Belgian tutor company, named Educadomo
Snowboard coach
U-Glisse - Grenoble (France)
During my Erasmus period in France, I got the opportunity via a local student association to teach (foreign and local) students how to snowboard
카테고리별 원어민 쌤 | 더 찾아보기:
시범 레슨
One time, 30 minutes