역대 최대 할인! 레슨 패키지 15% 할인 혜택.
만료일:

05:13:55:28

(쿠폰이 남았습니다.: 77)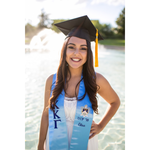 Elisa Tactuk
태국
•
5:59 PM (GMT-05:00)
시범 레슨
One time, 30 minutes
선생님 통계
매우 빠름
4년 전
100.00%
6
3.0 평균 레슨
4.8
교육 경력

학위
Bachelor of Arts in Advertising and Public Relations
University of Central Florida - Orlando, Florida

경력
After School Program Coordinator/Teacher
My Rainbow Center - Orlando, Florida
Design program schedule according to the particular week's lesson plans for a 10-12 student class of ages 2-7. Lead group activities with students based on different development focuses to ensure students are learning at their full potential. Hold one-on-one sessions with individual students to ensure proper understanding of concepts as well as overall student success. Establish and enforce rules for behavior and procedures to maintain order amongst students. Assign lessons and assist in correcting assigned work.
English Program Teacher
Bannakanluang School - Phu Wiang, Thailand
One of the head teachers of the school's English Program. Responsible for the 5th grade class, but currently teaching Mathematics (in English) for 4th grade and English Language and Mathematics (in English) for the 5th grade class.

자격증
Identifying and Reporting Child Abuse and Neglect
Florida Department of Children and Families - Orlando, Florida
Child Care Facility Rules & Regulations
Florida Department of Children and Families - Orlando, Florida
Child Care Facility Rules & Regulations
Florida Department of Children and Families - Orlando, Florida
Child Growth and Development
Florida Department of Children and Families - Orlando, Florida
Health, Safety and Nutrition
Florida Department of Children and Families - Orlando, Florida
카테고리별 원어민 쌤 | 더 찾아보기:
시범 레슨
One time, 30 minutes