10% 할인 혜택을 받아 더 많이 배워 보세요.
만료일:

04:01:30:09

(쿠폰이 남았습니다.: 55)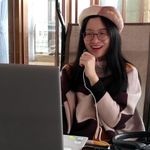 Joanna Lee
중국
•
7:24 PM (GMT+08:00)
시범 레슨
One time, 30 minutes
선생님 통계
몇 시간 이내
5년 전
99.00%
405
18.1 평균 레슨
5.0
교육 경력

학위
Bachelor
Lingnan Normal University - China
Major: Teaching Chinese as a Second Language

경력
Marketing Manager
Juliquancheng Culture Co., Ltd. - China
In my business classes, I will use my work experience(HR & Marketing) and knowledge, help you to learn more professional knowledge, help you better communicate and work with Chinese colleagues and customers, AND REALLY HELP YOU SOLVE YOUR BUSINESS PROBLEMS.
Online Chinese Teacher
Language Institution
I have taught one-on-one and small classes, and my students come from America、Sweden、Australia、Poland、Russia、Israel、Armenia、Korea and Czech Republic and so on.
Human Resource Officer
ASSAB - China
The work's experience is helpful for me about teaching Business Chinese Course.
Hello! My name is Joanna Lee, and I teach Chinese on Verbling. Since 2015 I have been fully...
大家好,我叫Joanna。 昨天我的学生David看到这样一句话:"一个男人,只要怕老婆,就坏不到哪里去。" David 记得我告诉过他: "到哪里去 & verb+到哪里去"意思是 "去哪里,去什么地方",比如:...
카테고리별 원어민 쌤 | 더 찾아보기:
시범 레슨
One time, 30 minutes