역대 최대 할인! 레슨 패키지 15% 할인 혜택.
만료일:

00:21:52:54

(쿠폰이 남았습니다.: 11)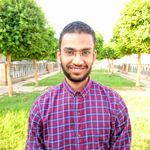 Mohamed Abdelkareem
이집트
•
5:02 AM (GMT+03:00)
원어민 쌤 프로필
My name is Mohamed abdelkareem, I'm a native Arabic speaker, I can teach Standard Arabic, Modern Arabic, 3ameia (Slang Arabic, Egyptian dialect), and also Quran with tajweed rules.

I like this work, helping people to learn a new language and to get a new knowledge. allhamdullah I have the ability to teach, I'm patient and I can wait for my students until they can absorb my words, never make them feel depressed, and I'm also like learning new things and don't like laziness and lethargy, so I can encourage my students to learn.

My teaching way is to help my students to learn the language to use it in their live, not only in the book! So you'll hear me always tell you like this: forget the book, we don't want to finish the book, we want to use the language, we are not in a school, how to use this in your live, give me an example for this sentence from your real live.

I often use these books in my teaching way:
- Arabic courses for English-speaking students (madina book)
- Arabic between your hands.
- Al-kitab Al-Asasi (the basic book for non Arabic speakers).
- kallimni arabi bishweesh (Egyptian Arabic).
- GateWay to Arabic.
- Tajweed Rules of the Quran.
- Nour Al Bayan (Teaching How to Read Arabic by the Quran).
- I'm also choosing the best things from different books, so it can be suitable for my students.

I'm trying my best to make my lessons interesting and not boring, I have taught different ages from children to elderly people (more than 50 age) and allhamdullah it was an amazing lessons.

hope to see you soon :)
더 보기
시범 레슨
One time, 30 minutes
선생님 통계
24시간 이내
5년 전
100.00%
179
45.5 평균 레슨
4.9
원어민 선생님의 전문 분야
Modern Standard Arabic (al-fusha)
교육 경력

학위
Master degree in law
확인됨
Assiut University - Assiut,Egypt.

경력
Quran and Arabic teacher
Al-sahaba commuinty - Assiut,Egypt.

자격증
Methods of teaching Arabic skills to non natives
확인됨
Rwaq - The Arab Platform for Open Education
Course of teaching Arabic skills to non natives by 5 specialized professors in this filed.
카테고리별 원어민 쌤 | 더 찾아보기:
시범 레슨
One time, 30 minutes